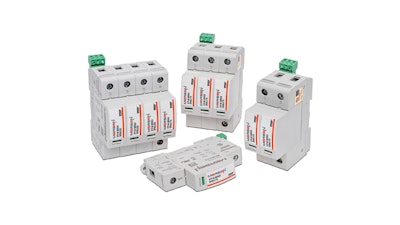 Mersen
NEWBURYPORT, MA (September 13, 2023) – With the increasing prevalence of sensitive electronic products, surge protection is more important than ever. Mersen is excited to introduce the latest addition to our DIN-rail SPD family: the Surge-Trap Pluggable STP-50 Series Surge Protective Device (SPD). The STP-50 joins Mersen's STP-75 Series Pluggable SPDs and ST Series Monobloc SPDs to provide engineers a wide range of SPDs to meet the diverse specifications and requirements of many industries.
Mersen's STP-50 Series is a no-fuse, fail-safe surge protective device with a 50kA short circuit rating, suitable for most industrial control panels. Featuring Mersen's TPMOV technology inside, there is no need for additional overcurrent protection. A reversible chassis allows cable entry from top or bottom and a remote indicator provides status to critical control circuitry. Replaceable surge modules feature mechanical coding to avoid replacement errors.
Both STP-50 and STP-75 Pluggable SPDs are designed to provide safe and reliable performance in high-risk environments. Both SPDs feature a new enhanced base with a tool-less DIN-rail clip for easy installation. The STP-50 Series comes with a 5-year warranty and is intended for use on a wide range of low-voltage applications inside appropriate enclosures. Applications include industrial control panels, water treatment plants, smart grid and LV Metering, and Traffic / ITS (Intelligent Transportation Systems).
STP-50 joins Mersen's line of UL 1449 5th Edition approved DIN-rail SPDs, including:
Surge-Trap STP-75 75kA Pluggable SPD: The same technology as the STP-50 series for applications that require a 75kA surge capacity.


Surge-Trap ST Monobloc SPD: Mersen's ST Series Monobloc SPD features a 50kA surge capacity and rugged one-piece design.
For more information about Mersen STP-50 series, visit the product page. For more information about Mersen, visit ep.mersen.com.
Karen Schmuch
Sr. Marketing Communications Manager, North America
[email protected] | (978) 465-4919