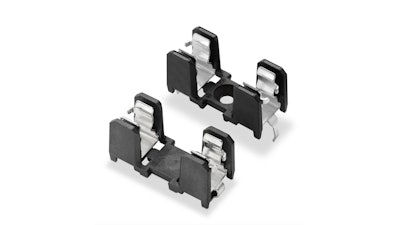 Littelfuse
Littelfuse, Inc., an industrial technology manufacturing company empowering a sustainable, connected, and safer world, announced the latest release of the 656 and 658 Series Fuse Blocks product line. These fuse blocks offer a higher amperage rating, giving electronics engineers and designers more options depending on their specific application requirements.
The key differentiator of these high-resistance fuse blocks is their ability to support a higher amperage rating available in PCB-mounted (656) and surface-mounted (658) options. While the current versions are rated up to 16 A, Littelfuse is now offering versions rated at 20 A and 30 A. This expanded range allows customers to choose the appropriate amperage rating based on the needs of their applications, which include:
Consumer electronics,

Data centers,

Telecom,

Building and home automation,

Appliances,

HVACR,

General industrial, and

Electrical equipment.
"These new fuse blocks provide our customers with greater flexibility and choice," said Style Liu, Global Product Manager at Littelfuse. "By offering higher amperage ratings, we ensure our customers have the necessary options to meet their specific application requirements."
The 656 and 658 Series Fuse Blocks offer the following key benefits:
Provides PCB-mounted and surface-mounted solutions for designs that require 5 x 20 mm fuse sizes.
High voltage 500 V ac / V dc rating with 30 A current rating that accommodates many power applications.
UL recognized to UL / CSA 4248-1.
Availability
The 656 and 658 Series Fuse Blocks are available in bulk packs of 100 pieces, and 658 Series is also available in tape and reel format in quantities of 400. Place sample requests through authorized Littelfuse distributors worldwide. For a listing of Littelfuse distributors, please visit Littelfuse.com.
For More InformationAdditional information on the latest series release is available on the 656 and 658 Series Fuse Blocks product page. For technical questions, please contact Style Lui, Global Product Manager, [email protected].