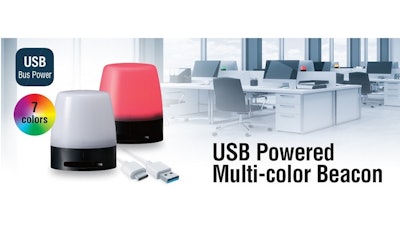 PATLITE (Torrance, CA) announces the latest cutting-edge visual and audible solutions, the USB Type-C-powered NE-USB compact beacon and the new line of network signal towers, the NHV Series. Specifically:
The NE-USB is a multi-colored LED signal beacon powered and controlled by one USB cable for streamlined connectivity that can apply to a wide range of factory applications.

The NE-USB is available in two distinct models: the NE-SN-USB and the NE-WN-USB.

The NE-SN-USB model features an option for stationary, magnet and ¼-inch screw mounting, while the NE-WN-USB features an IP65 protection rating and can mount via a pole or wall attachment.

Both models of the NE-USB come equipped with a milky lens that harmonizes with every environment to suit modern workplaces and facilities. Additionally, the NE-USB comes standard with seven selectable LED colors (red, green, blue, amber, cyan, purple and white) for the most compact and versatile visual signaling around.

Alternatively, PATLITE's new NHV network signal tower series offers network peace of mind with four distinct models: the NHV, the NHV-D, the NHV-DP and the NHV-M. Each model of the NHV line comes standard with a myriad of features, including cloud control, audio playback (MP3), TTS (Text to Speech) and more.

The NHV network signal tower series is ideal for reporting errors in other network devices and systems and can instantly notify statuses with clear and superior light and sound indication.