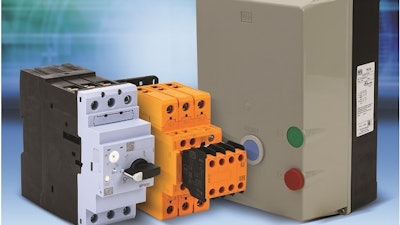 AutomationDirect (Cumming, GA) has added a wide assortment of quality WEG Electric contactors and motor control devices to their lineup of motor controls and safety equipment.
The CWBS series IEC safety contactors provide a safe and reliable way to control electrical power in industrial and commercial applications. Available in ratings up to 80A, these contactors comply with IEC and UL standards, providing mechanically-linked and mirror contacts to ensure safety circuits for machines and equipment operate according to international safety standards.
In addition to the safety contactors, the WEG Electric motor control offering has been expanded to include the following:
ESWS/PESWS series single-phase general purpose and washdown manual motor starters in ratings up to 3hp at 230 VAC (23A).
ESW/PESW series three-phase general purpose and washdown enclosed manual motor starters in ratings up to 50hp at 575 VAC (80A).
MPW series manual motor protectors in ratings up to 65A.
CWB series IEC contactors in ratings up to 125A.
RW117 series overload relays in ratings up to 140A.
The new WEG Electric motor controls are UL Listed, CE marked, and RoHS compliant. They, and the WEG CWBS series safety contactors, have a 1-year anniversary.