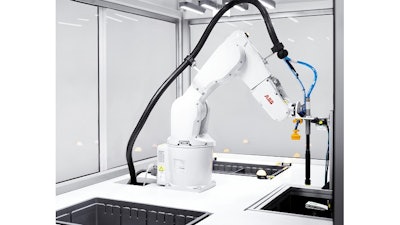 ABB Robotics (Cary, NC) announces the launch of the Robotic Item Picker – a new AI and vision-based solution that can accurately detect and pick items in unstructured environments in warehouses and fulfillment centers.
Using machine vision and artificial intelligence, the Item Picker determines the optimal grasp points for each item before the suction gripper picks up and places the item into designated bins. The system does not require any human supervision or information about the physical attributes of the items it picks. With a picking rate of up to 1,400 items per hour, businesses can handle more orders without increasing headcount or time.
Featuring a robot, suction grippers, and a proprietary machine vision software, the Robotic Item Picker fully automates complex picking and placing tasks of a range of items including cuboids, cylinders, pouches, boxes, polybags, and blister packs, which otherwise require the dexterity and flexibility of humans.
Suitable for a range of loads and applications, the Robotic Item Picker can be fitted to one of three ABB robots - the IRB1200, IRB 1300, and IRB 2600. With a payload of up to 3kg and a reach of up to 1.65 m, the Item Picker offers the flexibility required to meet many different needs in order fulfillment and sortation.