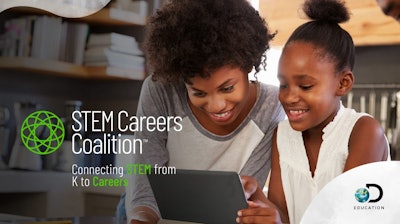 STEM Careers Coalition
The STEM Careers Coalition – the first-of-its-kind national STEM initiative powered by corporate leaders and anchored in schools by Discovery Education – presents a curated collection of no-cost content celebrating the careers of Black leaders in STEM for use during Black History Month and beyond.
The collection of dynamic on-demand resources showcasing careers of Black professionals across an array of STEM industries and supports educators' efforts to drive deeper student engagement by connecting classroom lessons to the real-world. Discovery Education is the worldwide EdTech leader whose state-of-the-art digital platform supports learning wherever it takes place.
Since its founding in 2019, the STEM Careers Coalition has reached more than 6 million students in its mission to support the next generation of diverse STEM solution-seekers. To continue in the mission of reaching 10 million students by 2025, the Coalition presents a robust array of career profiles featuring diverse leaders across various industries and job roles.
Included in the curated collection are digital career profiles featuring leaders from Boeing, Capital Power, Chevron, Procter & Gamble, Sanofi, Stanley Black & Decker and more. The career profiles also feature student activities and career preparatory materials that introduce students to the world of career planning. In addition, educator guides support teachers in integrating these resources into any lesson plan.
STEM Careers Coalition partners share a common goal of empowering educators to teach STEM effectively in the classroom with an intentional focus on racial and gender equity. Representing a range of industry sectors, the STEM Careers Coalition seeks to prepare 10 million students for the future of work by 2025 by providing equitable access to digital content and experiences that engage students in instruction, build foundational STEM knowledge and develop the critical skills students need for college and career success.
In 2022, the Coalition welcomed the following new members Charles River Laboratories, Cox, Inc., Nevada Gold Mines and PepsiCo Foundation.
"Representation matters. Students need, and want, to see people like them in the careers of the future. The STEM Career Coalition intentionally highlights diverse leaders and perspectives as part of its broader effort to improve access to the STEM careers of the future," said Jackie Smalls, Vice President of Social Impact Coalitions at Discovery Education. "This collection of curated content for Black History Month empowers educators to connect students to the real-world and is designed for grab-and-go use every day."