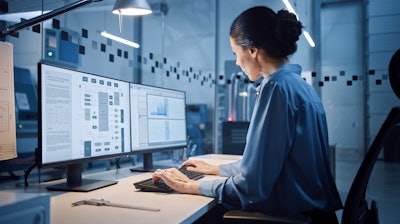 iStock
The word "automation" in manufacturing often brings specific images to mind, such as advanced robotics or the human machine interface, which allows humans to interact with production systems via electronic devices. Only some people imagine automated email management systems or software that handles customer relationships. These automations are not just for offices or service providers but also benefit the manufacturing sector. Manufacturing software is full of examples of how automated systems are making our world easier, more streamlined, and, hopefully, more efficient.
While anyone can appreciate automation when it lessens the workload, not everyone knows how to create an automatic process. Thankfully, software teams have made multiple automated systems for manufacturers in all corners of their businesses. Companies must select the type of software suited for the operations they want to streamline and adjust their operating setting to match their needs. Here is a glimpse at how automation creates a wealth of benefits for manufacturers.
How Automations Makes Work Easier for Managers
While incredible advances have been made in robotics to make manufacturing more efficient, this is only one example of how automation is used in the industry. From manufacturing products to ordering supplies to scheduling and communication, automation simplifies every corner of the business. Not only does setting up automated processes make businesses run more smoothly, but it also saves incredible time by freeing up team leaders to focus on the essential parts of their job descriptions.
The human mind is a powerful instrument, but it has its limitations. When managers at every level can delegate regular tasks to an automated system, it frees up their concentration from the busy work to take on the more challenging aspects of their jobs. Automated software also costs less than employing assistants to tackle mundane busy work. Beyond the individual level, automation also helps your teams stay connected better. For example, when data is automatically updated to a central source of truth, it enables cross-functional collaborations to share vital details and work more effectively. This example can save time and reduce costs by cutting out lengthy meetings designed to bring everyone up to speed before working on a project. With automation, each stakeholder is up-to-speed before the meeting happens.
Four Key Types of Software with Automations that Save Manufacturers Valuable Time
Enterprise Resource Planning Software
One of the larger, more powerful software systems is ERP or Enterprise Resource Planning Software. ERP software can manage various tasks for all corners of the business. From managing daily activities to business functions, the automations created by this system simplify decision-making, improve productivity, and facilitate the flow of information across departments.
Some key areas of business where ERP software can provide time-saving automations include:
Procurement

Accounting

Supply Chain Operations

Project Management

Risk Management

Customer Management

Inventory and Work Order Management

Financial Management
PRM or Product Roadmap Management Software
Having one source of truth is essential for managing products, developing successful new products or variations, and determining which products should be discontinued. Companies that utilize software to connect their teams and compile essential data into one centralized product dashboard make it easier for their teams to manage product portfolios. Product roadmap management software can automate data sharing for all teams to access regardless of location. It can also automate product comparisons, score cards and alert product teams to new information, keeping everyone up-to-date. These automations lead to more productive meetings and strategy sessions that ultimately lead to better-informed product decisions at every roadmap stage.
Predictive Machine Maintenance
AI is helping manufacturers improve efficiencies, quality control, and worker safety on factory floors in many ways. One example is predictive machine maintenance. Using software systems that can automatically assess the performance of a machine, calculate the operating time and accurately predict when maintenance will be required before the part or the machine breaks down saves time and money. Rather than waiting for a machine to malfunction or break and cause downtime in the production line, machines can have scheduled repairs when the time is optimal and impacts the rest of production the least.
Customer Relationship Management Software
A CRM helps companies organize data to better manage relationships with retailers, suppliers, and distributors and direct contact with consumers in one centralized location. Having one source of truth for contact information and interactions leads to improvements in analyzing customer data, compiling reports, and strategically fostering better relationships with key contacts. CRMs also automate everyday tasks for emails, invoicing, calendar integrations, and more. Both small manufacturers and large-scale enterprises can benefit from a manufacturing CRM.
Automated Inventory Control
Managing inventory and supplies can be time-consuming with manual data entries, loads of paperwork, and ample room for human error. Switching to an automated system can make managing inventories simpler with increased accuracy. Inventory automation can also help managers react faster to challenges in the supply chain. When inventory data can be clearly analyzed, better decisions can be made more easily and accurately, such as when to change suppliers, when to order certain parts in higher quantities, when to adjust the budget to match price changes, and more. With integrated inventory control software, integrations can make it easy to connect your inventory software to your ERP for even more automated capacity.
Automations help manufacturers reduce time spent on data processing and invest more time analyzing and making informed decisions.