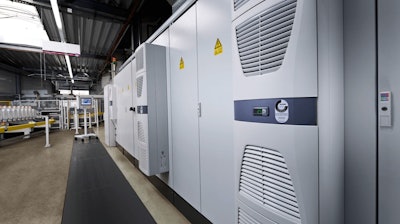 Rittal North America
Rittal North America, a manufacturer of industrial and IT enclosures, conducts climate inspections in manufacturing facilities that are designed to evaluate the efficiency and operability of all enclosure cooling units that keep vital equipment performing at its best.
Many facilities experience unplanned downtime caused by electronic equipment failure. What many plant equipment users do not recognize is that failing cooling solutions cause 80% of equipment failures.
Rittal representative will be discussing the company's climate inspections at IMTS 2022 from September 12-17 in Chicago, IL at McCormick Place, South Hall, Booth #339453.
Most facilities underestimate the number of cooling units in their facility, causing an inaccurate picture of climate control efficiency and operability. Having a complete inventory of the cooling units and their health helps to develop a proactive maintenance plan and keep operations fully functional.
Rittal Climate Inspections provide:
Full inventory, condition and energy efficiency report of all cooling units.
Proactive maintenance plan consultation.
Solutions to reduce costs, energy usage and decrease carbon footprint.
For more information, visit https://www.rittal.com/usen_US/Solutions/Rittal-Product-Solutions/Climate-Control.