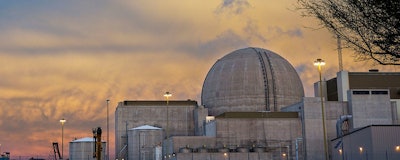 WINTERSBURG, AZ — For the third time in Palo Verde Nuclear Generating Station history, Arizona Public Service Co. employees completed a refueling and maintenance outage in less than 30 days. This outage set a station record for the shortest outage ever.
When Palo Verde Unit 3 reconnected to the electricity grid at 5:37 p.m. Arizona time on Saturday, Nov. 5, the record was officially in the books at 28 days, 17 hours and 37 minutes. By comparison, the average length of a refueling and maintenance outage at all U.S. reactors in 2015 was 36.3 days, according to industry data.
Palo Verde has three virtually identical 1,330 megawatt reactors. Unit 3's planned refueling outage bested the previous Palo Verde record, which was established during the 2014 refueling outage for Unit 2. That outage lasted a total 28 days, 22 hours. The first sub-30-day refueling outage in plant history was set in 2013 when Unit 1 was refueled in 29 days, 18 hours.
The latest achievement positions Palo Verde to effectively serve APS customers with around-the-clock electricity and further underscores the plant's strong operating record over the past decade, said Bob Bement, APS Executive Vice President and Chief Nuclear Officer, adding that customers directly benefit from shorter refueling outages because "the more days Palo Verde is operating rather than in a refueling outage, the more low-cost energy is available to customers across Arizona and the Southwest."
"This refueling outage is another example of the world-class performance we have come to expect from Palo Verde, which is the nation's largest carbon-free energy resource," said Bement. "The efficiency and safety with which our employees conducted this outage will enable us to continue providing clean, reliable service to our customers at the lowest possible prices.
"Just as important, using electricity produced from Palo Verde's three units is the equivalent of removing 2.8 million cars from our streets and highways every year. As a result, our customers have been enjoying cleaner air since the plant first started producing electricity in 1986."
In 2015, Palo Verde achieved its 24th consecutive year as the nation's largest power producer with total electricity production of 32.5 billion kilowatt-hours of carbon-free electricity. In addition, Palo Verde Unit 1 produced the highest electricity output of any nuclear unit in the world, and all three Palo Verde units, individually, ranked among the top seven international producers.
Since it began operation in 1986, Palo Verde has produced more than 780 million megawatt-hours of electricity, providing environmentally friendly energy to more than four million people. About half the plant's output serves Arizona customers with the remaining power spread among California, New Mexico and far west Texas. Palo Verde's three reactors are part of 99 operating nuclear units in the U.S. and 435 in the world. Its three units can generate more than 4 million kilowatts of safe, clean, reliable electricity every hour.
Palo Verde is a critical asset to the entire Southwest and a powerful economic engine. In addition to the energy produced, the plant has an annual economic impact of more than $1.8 billion in Arizona through taxes, salaries, purchases of materials and services, and more.
Palo Verde is operated by APS and jointly owned by APS, Salt River Project, Southern California Edison Co., El Paso Electric Co., Public Service Co. of New Mexico, Southern California Public Power Authority and the Los Angeles Department of Water & Power.
APS serves about 2.7 million people in 11 of Arizona's 15 counties, and is the Southwest's foremost producer of clean, safe and reliable electricity. Using a balanced energy mix that is nearly 50 percent carbon-free, APS has one of the country's most substantial renewable energy portfolios, and owns and operates the Palo Verde Nuclear Generating Station, the country's top power producer and largest producer of carbon-free energy. The company is also a proven leader in introducing technology and services that offer customers choice and control over their energy consumption. With headquarters in Phoenix, APS is the principal subsidiary of Pinnacle West Capital Corp.