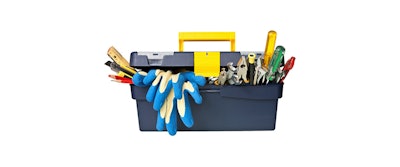 As I write this, I'm also reviewing the 33-page home inspection report of the house my wife and I will own come mid-March. It's our first house, so the whole process is new to us. So many signatures.
It's a 56-year-old home, but for its age, it's in pretty good shape and has essentially everything we were looking for. Still, it's due for some refurbishments now and in the near future. I'm hoping that my role as IMPO editor and the plethora of industrial maintenance articles I read on a weekly basis will naturally make me proactive when it comes to home maintenance, especially as we get started.
The house's furnace is 20 years old, the water heater is 10 years old and the air-conditioner unit is 28 years old — each at or near their expected statistical life expectancy and each a considerable expense. The decision we have to make for each is: do we hope for the best and use them until they bite the dust and pay for a new unit then, or do we plan to replace them immediately and avoid being in a situation where we suddenly don't have a working furnace on a freezing Wisconsin winter day?
By now you might be asking why we're getting a home that has these potential problems. Trust me, the house has plenty of charm.
Home maintenance isn't in the same league as industrial maintenance, but it's the same sport, and some of the maintenance issues we'll deal with early on have correlations to issues regularly dealt with in industrial facilities.
Industrial facilities face these same questions about their capital equipment. As conveyor motors, gears, loading dock door openers, machinery and safety equipment near their life expectancy, maintenance managers have to decide when to pull the trigger on when to replace or upgrade them. Most facilities have the spare equipment needed to replace those items whenever needed — a luxury my wife and I don't have.
Still, we can start planning for the worst. We've already started budgeting to replace those crucial appliances so that when our home warranty expires in October, we can afford to immediately purchase and install at least one of them if they die immediately after. Just like how it's critical for industrial facilities to avoid being shut down for repairs, it'll be critical for our house to always have running water, heat and/or air conditioning. I'm curious as to how facility operators go about making the decision of when to replace equipment. Feel free to comment below on the factors you use in your facility to make those choices.
In the meantime, wish me luck with the house.