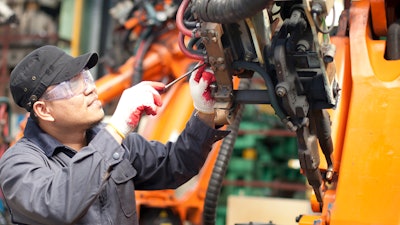 iStock
Maintaining plant equipment at peak performance is a complex and never-ending process. With challenges around aging components and parts obsolescence, the longer assets operate, the more complex the process becomes. A computerized maintenance management system (CMMS) can help streamline the process by automating work orders and workflows.
Functional Areas of CMMS
At its core, a CMMS is a structured database. It stores a data model that organizes information about the assets owned by the organization and all the underlying equipment, materials and connected resources. Below is a list of the most important functionalities.
Asset management
Track equipment to any level of granularity based on various parameters. For example, this includes site (location, sub-location), components (bill of materials, make, model, manufacturer), maintenance history (work order reports, as-found conditions) and associated documents (operating procedures, maintenance manuals, drawings).
Reporting and analytics
Generate a wide range of reports and dashboards that provide insight into equipment reliability, operating performance and maintenance history. For example, reports across maintenance categories such as asset availability, materials burn rate, labor costs and live dashboards on equipment status and work order completion by the crew, per workweek.
Maintenance optimization
Automate work order initiation based on time intervals or triggered events and sequence work orders tasks for preventive, predictive or condition-based maintenance. For example, generate preventive maintenance (PM) work orders based on user-defined time intervals and scope of work, initiate condition-based maintenance based on operational parameters measured through sensors (e.g. high-pressure differential, high vibrations) and generate rule-based notifications to operations personnel if asset performance becomes abnormal.
Work management
Track work orders through the plant floor, assign resources to maintenance crews and drive maintenance to execution by adding relevant work order tasks and attaching the associated documentation and media files. For example, maintenance personnel can have a summary of all assigned work orders (preventive, corrective, deficient) and build a custom list that includes all "open" work orders sorted by criticality/importance and parts readiness. Supervisors, on the other hand, can review work assigned to their crew for the workweek, set targets, review historical maintenance work and reflect on team effectiveness.
Materials management
Procure, store and issue parts and materials across storage areas, warehouses and facilities, while tracking inventory, lead times and costs in near real-time. For example: tracking on-hand, on-order or reserved parts to help plan maintenance and generate notifications to initiate replenishment purchase orders.
Benefits of CMMS
With the broad range of functionalities that a modern-day CMMS provides, the resulting benefits include the following:
Enhanced safety
A CMMS offers central reporting for the environment, health and safety issues, in line with workplace compliance management. CMMS can also flag recurring adverse trend conditions for safety and initiate investigation/troubleshooting work orders to help implement corrective action plans with continued traceability.
Additionally, a CMMS can serve as a repository of safety-related documentation, such as lock-out/tag-out procedures, job safety analysis, standard safety procedures (e.g., PPE, lift plans) and material safety data sheets (MSDS) - all of which can be linked to the related work orders or equipment.
Increased work efficiency
Managing multi-disciplinary field workgroups can be complex. CMMS helps to unify and effectively deploy cross-functional teams on complex maintenance activities.
Automating tasks such as replenishing consumables and critical spares inventory, allocating parts and resources, notifying downstream workgroups and other administrative duties can reduce errors and improve throughput - helping teams focus on maintenance and operations tasks, rather than on low-value repetitive administrative efforts.
Dynamic routing, workflow and configuration help with material and resource allocation. Details can be shared across multiple mobile devices to coordinate work execution among all stakeholders in the field, based on evolving plant priorities.
Streamlined reporting and compliance
Standardized reports help assess plant performance and obtain a quick snapshot of the plant through information on critical spares, resource costs, work order status, resource utilization and equipment availability.
One of the main benefits of a real-time CMMS is the ability to monitor standard KPIs like OEE (overall equipment efficiency), MTBF (mean time between failure) and MTTR (mean time to repair).
Modern CMMS provides customized analytics and forecasting tools, which can help power a plant's predictive and condition-based maintenance strategy.
Furthermore, CMMS makes audits exponentially easier to manage by generating tailored reports. For example, some of the common information required by audits, such as PM history on key assets, safety inspections, work order backlogs, incident history and procedures/manuals, can easily be fetched through a CMMS.
Improved equipment reliability
All the benefits of CMMS discussed above ultimately result in increased equipment reliability and an improved bottom line as you transition towards a smart factory setup.
CMMS serving as a data repository can help plant engineers track when a piece of equipment was placed in service, when maintenance was performed, the frequency of breakdowns, parts usage, etc. Such insights on historical data facilitate improved, data-driven decision-making towards asset management and equipment reliability.
This allows plant maintenance to transition from reactive to proactive through preventive, predictive or condition-based maintenance. Modern CMMS built for the factories of today have evolved into cloud-based, real-time systems that consolidate data from sensors, transmitters and other IoT instrumentations. This delivers actionable insights into processes and assets, informs preventive measures and triggers alerts before assets fail.
Conclusion
Without CMMS, many critical data points across the plant are lost into thin air, which otherwise could have been used to make risk-aware, data-driven decisions. In addition, by streamlining all of plant asset information, work orders and historical data into one system, a CMMS helps improve productivity, extend the service life of key plant assets and boost the business's bottom line.
---
Eric Whitley has 30 years of experience in manufacturing, holding positions such as Total Productive Maintenance Champion for Autoliv ASP, an automotive safety system supplier that specializes in airbags and restraint systems. He is also an expert in lean and smart manufacturing practices and technologies. Over the years, Eric has worked with all sectors of industry including Food, Timber, Construction, Chemical and Automotive to name a few. Currently, he's a part of the L2L team.