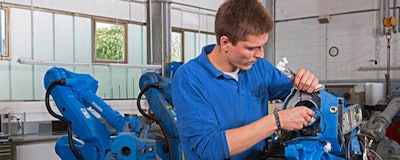 In the past, the words, "temporary factory shutdown" may have induced panic throughout an organization, but in today's manufacturing landscape, this phrase is being heard more frequently. In fact, a "holiday shutdown" or "factory fortnight"—a scheduled break where company leaders close a production facility for a limited amount of time for activities like robot upgrades, preventive maintenance and process improvement—has become an annual event at many factories throughout the Americas.
With production workers and managers absent from the factory floor during the holiday season, the amount of work that can truly be accomplished rapidly decreases. Savvy companies are taking advantage of the situation, turning to operation-wide shutdowns to save money on overhead expenses, while boosting competitive edge. During these designated closures, decision makers are employing specialized skeleton crews to perform robot installations, routine maintenance and processes improvements for greater production output.
While planned shutdowns can ultimately be good for business, achieving the ideal outcome takes planning, coordination and diligence, predominantly from those responsible for engineering, procurement, facility management, equipment maintenance and project management. While every employee of an organization is responsible to do his or her part to complete a successful shutdown, there are several guidelines decision makers should follow before and during the process, especially where robot maintenance and upgrades are concerned:
Designate a Leader: Before planning, an ultimate decision maker should be appointed. From planning to execution, this person would manage the shutdown process. Moreover, in the event the scope of the project should veer off course, this designated leader could step in to make tough decisions related to improvements, keeping to the budget and overall plan as much as possible.
Follow Best Practices: Past lessons from previous scheduled shutdowns or maintenance sessions should be considered, and new maintenance plans should be consistent with current manufacturer recommendations. Similarly, any technicians on staff that will be responsible for scheduled robot maintenance should be given the proper training and/or tools to successfully complete the job.
Develop and Communicate a Clear Plan: As mentioned, planning for this type of event is critical. Very specific goals with achievable action steps for the work to be completed should be in place and communicated well before the shutdown date. This plan should list the projects to be done, tell who is responsible for each task, and give a detailed logistical workflow, especially for things like robot equipment removal or installation.
Keep in mind, if there are any external technicians or contractors required to complete maintenance tasks during this time, be sure to schedule these professionals approximately six to eight months in advance.
Deploy a Smart Inventory Strategy: Well in advance, talk to internal experts in charge of key equipment to determine what parts should be on hand. Common items to consider for robot maintenance would be:
Controller CPU battery (replace every three years)
Controller air filter (replace annually)
Controller fan unit (replace every three years)
Gaskets / Gasket covers (replace ever three years)
Connectors (replace as needed)
Seals (replace as needed)
Cables (check for wear frequently - replace as needed)
Teach pendants (test frequently - fix and replace as needed)
Gear oil (replace every other year)
Grease for bearings and other pertinent parts (monitor often and re-grease as needed)
To avoid lead times altogether for parts delivery, some manufacturers prefer to stock their own spare parts, greatly relying on the historical data provided through tools like Yaskawa Cockpit to inform them what parts may be necessary in the future. This is especially true for 24/7 operations that may not be able to completely close for a scheduled shutdown.
Either way, be sure that you complete your spare parts planning and ordering months in advance of a shutdown, as it can greatly reduce downtime that may unexpectedly arise during the scheduled maintenance period. In preparation for robot upgrades and maintenance, a planning session with one of our Yaskawa Customer Satisfaction Group (CSG) Regional Technical Managers can provide guidance in executing a successful inventory strategy.
Perform a Grease Analysis: Because well-lubricated robot axes help to control friction, vibration and heat, manufacturers should consistently check and re-grease each axis, as needed with the recommended OEM grease throughout the year. Doing this should help maintain proper iron levels in the grease, helping to prevent costly repairs.
To ensure that the iron levels within the grease are at a safe operating range, a routine grease analysis for each axis is advised. While some buildup of iron naturally happens over time, a spike in the iron content of one or more axes can hint that there is a potential problem with the drive. Performing this simple activity prior to the holiday shutdown, can help decision makers order spare parts and plan proper countermeasures.
Plan for Next Time
Once the project is complete and end goals are reached, it is time to start planning for the future. Managers and decision makers should make note of the procedures that worked and what did not. The lessons learned along the way will help prepare for the next scheduled shutdown. Regardless of the revelations, each company should be proactive in managing risks and taking care of robot maintenance.
Chris Williams is Senior Manager, Customer Satisfaction Group – Yaskawa America, Inc., Motoman Robotics Division