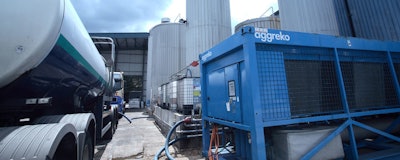 While the colder months are here, it is never too late for manufacturing sites to evaluate heating needs. However, did you know that heating systems can do more to add value than simply heat your plants?
First, it's important to understand the temporary heating systems available to manufacturing plants. The four major types of heating systems are electric, direct-fired open-flame, indirect air, and hydronic.
Hydronic Heating System Heats Water
In hydronic heating, a central heater is located outside and warms heat transfer fluid (environmentally-friendly propylene glycol). The heated fluid pumps through a fluid circulation system loop to remote heat exchangers (fan coils) that remove heat from the liquid to the heating area and return it to the central heater for reheating. Such systems are inherently safer than direct-fired open-flame heaters because they virtually eliminate fire risks. Further, because hydronic heating systems reheat ambient air rather than cold outside air, they are more fuel-efficient and have a lower environmental impact than open-flame systems.
Moreover, a hydronic heating system provides an extremely cost-effective way to heat water over a temporary period, so plants have reliable access to hot water for both non-potable and potable water applications. You can bring a hydronic heating system onto the site quickly in an emergency or incorporate one as backup into a scheduled maintenance plan to ensure ongoing operations.
Additionally, a boiler-bypass system used alongside a plate exchanger allows the site to tap into the facility's water system directly, which further saves time.
Heat Load Testing
Whether it is a new chiller, a new cooling tower or a retrofitted one, plants should conduct heat load testing of the equipment using a hydronic heating system before the equipment is installed to ensure compliance and mitigate risk.
Heat load testing creates an artificial heat load to test the integrity of the equipment. The last thing a plant wants to do is spend resources installing then connecting the equipment to the plant's manufacturing process only to find out the equipment does not operate effectively.
Recently, a pharmaceutical manufacturer in Bethesda, Maryland, purchased a new chiller and worked with a temporary heating company to design a solution capable of 10.5 million BTU of heated water to simulate the heat load on the new chiller system. The heat load testing system included fourteen hydronic central heating units, a 1200 GPM pump, a 1,000 square foot heat exchanger and a temporary power generator. Thanks to the successful heat load test, the pharmaceutical manufacturer confidently installed the chiller and tied into the rest of the manufacturing process.
New Tricks
While fan coils have been in use for a long time to either heat or cool an area using separate units, it is now possible to use the same fan coils in conjunction with either a hydronic heater system to provide heating or a chiller to provide cooling. This setup allows for less temperature control equipment, greater flexibility and easier installation.
For example, a manufacturing site in New England used hydronic heaters along with large chillers to provide chilled water and a hot re-heat (dehumidification) for multiple air handlers in the plant. This temporary system allowed the plant to meet its stringent chilled water and hot water requirements.
In addition to its innovative heat uses, more plants are turning to a hydronic heater system because of the added benefits of flexibility, energy efficiency and reliability for a variety of applications.
Flexibility
At large manufacturing sites such as a paper mill, steel mill or petrochemical plant, a 2,000 horsepower boiler or steam generator is typically used to produce heat for the plant. However, more plants are considering temporary heating systems as a better alternative because the temporary heating system can be scaled up or down based on the needs of the plant. Specifically, a hydronic heater creates several, scalable distribution points all around the manufacturing facility and bypasses the boiler heating system to ensure the same temperature throughout the plant.
Energy Efficiency
The most efficient way to transfer heat is via fluid heat transfer, which reduces overall fuel consumption. Conventional methods of temporary heating typically call for indirect air or direct-fired open-flame heaters. However, these methods are inefficient because they must heat outside air. Reheating warm ambient interior air instead, such as with hydronic heating, allows for substantial fuel savings.
As an added benefit these systems are designed to vent directly to the atmosphere, as opposed to other systems which vent right into the work environment. Venting directly to the atmosphere eliminates the need for ventilation of noxious fumes.
Reliability and Redundancy
For large-scale heating applications, the most reliable large-scale heaters, like the tri-fuel Kraken, make it easy to switch between different types of fuel while offering multiple ways to mitigate risk and provide redundancy. For example, a unit with two burners allows operations to continue even if one burner goes down. Also, if the fuel supply to a burner is interrupted, a system with an onboard backup fuel supply will allow continuous operation until the primary fuel is restored.
Make heating systems a priority this winter to keep production steady and keep workers safe. And be advised that heater systems can do more than heat your plant, so contact a reputable vendor to learn more.
Eric Alderson, Temperature Control Product Manager at Aggreko, is based in Calgary, Alberta, and Nick Marr, Northeast Region Sales Manager at Aggreko, is based in Boston, Massachusetts.