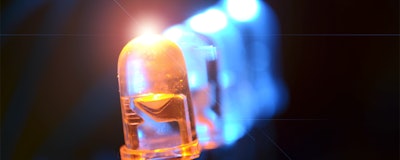 LED lighting has gained traction in the industrial sector for its money-saving benefits, namely lower electricity consumption and cost, reduced maintenance cost and providing for a safer workplace environment, all leading to a lower total cost of ownership compared to high-pressure sodium (HPS) and other high-intensity discharge (HID) lighting.
But, aside from saving money, industrial LEDS also have the potential to make a significant impact in saving the planet from environmental damage and pollution. Plenty of evidence shows that converting to high-efficiency industrial LEDs can help companies reduce their environmental footprint and become cleaner, greener global citizens. To illustrate just how effective making the switch to industrial LED lighting can be, here's a look at this potential pollution solution by the numbers:
The Situation
Industrial lighting is a major share of U.S. energy consumption. With so much electricity being used simply to light up facilities, energy efficiency must become a high priority.
144 million — industrial light fixtures in use at 455,000 facilities in the U.S.
54 percent — the amount of all delivered energy used by the industrial sector
15 percent — portion of U.S. electricity used for lighting alone
58 terawatt hours — the amount of energy consumed by industrial light fixtures annually in the U.S., enough to light 1/3 of all homes in the country.
92 percent — industrial facilities still using conventional HID lighting systems, some of which consume 3X as much energy as LED fixtures.
The Savings
Switching to LED lighting solutions could dramatically cut energy consumption by not only reducing the amount of electricity used per fixture, but also requiring less energy for maintenance and the production of millions of short-lived HPS lamps that demand frequent change-out.
90 percent — greater energy efficiency of industrial LED lighting compared to legacy systems.
50 percent — less energy used by industrial LED lighting systems when equipped with dimming, sensors and smart controls, which eliminate the need to keep lights burning 24/7.
60 percent — more light output at the source for LEDs compared to other systems.
30 percent — higher light efficiency for LEDs by virtue of their directional beam and lower light loss.
52 terawatt hours — the annual reduction in energy use as a result of switching from conventional to LED lighting.
The Pollution Solution
The dramatic reduction in energy use by switching to LED lighting in industrial settings can also substantially lower the amount of harmful emissions produced as a by-product of electricity generation needed to power the lights. Making the switch would also eliminate the risk of other contaminants caused by HPS lamps. Switching to industrial LEDs would remove:
28 million metric tons of carbon emissions from the atmosphere each year—the equivalent of taking 6 million cars off the road.
67,000 tons of nitrous oxide and sulfur dioxide, the particulates responsible for acid rain, smog, and human respiratory issues.
330,000 grams of mercury from the environment. Aside from the 10-50mg of mercury contained in a typical HPS lamp—which is enough to poison an entire classroom of children—the amount of mercury emitted from power generation to light one HPS lamp over its lifetime is 10x the mercury content of one bulb. That's enough to exceed the toxicity limits in 10 million classrooms.
Tungsten and other compounds that contaminate soil and require HPS lamps to be treated as hazardous waste.
The energy savings and long-life performance of industrial LEDs clearly make them a more economical solution than traditional HPS and other legacy lighting solutions. But, for companies that are also making it a priority to reduce their environmental footprint with more sustainable operations, the benefits of LED lighting are even more valuable.
Facilities around the world have achieved zero-emission operation by adopting LED technology from the start, and many others have met their sustainability goals thanks to an upgrade to modern industrial LED lighting. In some cases, energy rebate and incentive programs make this a smart fiscal move as well, helping to reduce demand on the power grid and lower power-gen related emissions as a result.
As the cost of LED lighting continues to level out and a wider variety of form factors hit the market to satisfy a broad range of applications—including hazardous applications—LED is proving to be a more economical and environmentally responsible solution than conventional HID lighting.
Luis Ramirez is the Chief Operations Officer at Dialight.