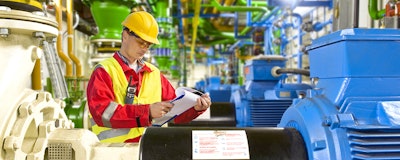 Changing maintenance strategies often feels like changing horses in mid-air. For a maintenance manager, making this decision is just the first step. Without the support of upper management and a convincing argument, you're unlikely to achieve the results your desire.
So how do you craft a compelling argument and win over the support of upper management?
Here are some pointers.
Talk About the Bottom Line
In every organization, top managers are more focused on the big picture and formulating a strategy for the business. As the maintenance manager, you will need to appeal to this focus.
Presenting how a change in maintenance strategy will support the overall business strategy is vital in gaining management support and it is a first step towards successful implementation.
Discuss Return on Investment
Estimating a return on investment (ROI) is often a challenge. But that doesn't mean you should skip it. If you are planning to gain support for changing your maintenance strategy, you need to show, with numbers, that this project will be beneficial to the company's bottom line in the long run.
Here is a simple graphic we recently made to show how to calculate ROI for a CMMS. You can do a similar thing to estimate savings as proactive maintenance strategy and CMMS work in the same way to reduce your overall costs.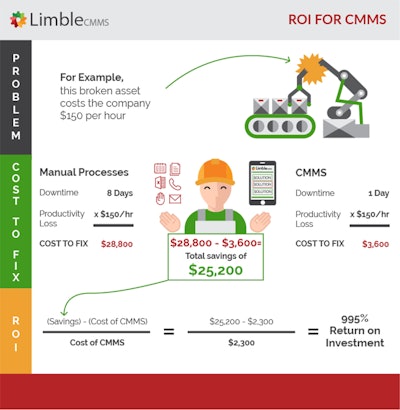 If Possible, Talk About Relevant Examples in Your Industry
An excellent way to strengthen any argument is to show examples that support your statement. If you can find examples of other organizations in your industry that greatly benefited from implementing proactive maintenance strategy, be sure to mention them in your presentation.
Showing that this can and has been done successfully in the past can be just the thing you need to tip the support in your favor.
Show the Current Costs of Reactive Maintenance
This goes hand in hand with talking about ROI. One of the reasons you decided to argue in favor of implementing a proactive maintenance strategy might very well be the constant pressure you face to reduce the operating costs of your department.
If your organization has been running reactive maintenance for a while, it shouldn't be hard to find instances where equipment downtime and asset failures caused significant financial loss. After that, it shouldn't be hard to connect some of those failures to the lack of effective proactive maintenance strategy.
But that is hardly the only way in which reactive maintenance is draining you budget. Here are some other things worth mentioning:
large spares inventory that ties up your capital
overtime labor costs
reduced lifespan of your assets
machines that never work at their full capacity
Talk About Benefits of Proactive Maintenance
Now that you have convinced top management of the negative impact of reactive strategy it is time to drive the point home why you need to implement a proactive approach to maintenance.
Here are a few things worth discussing:
Improved equipment reliability — supports adherence to the production plan because machine breakdowns due to lack of maintenance are few and far between. Increased availability means your equipment is in production for longer, allowing your business to meet and satisfy customer orders. Ultimately boosting the productivity and profitability of the business.
Boosts maintenance staff morale — when maintenance engineers stop plugging holes and rushing from one job to another, they are more relaxed and happier in their jobs. This will stem the loss of highly experienced engineers and reduce department staff turnover.
Reduced maintenance budget — the costs of each maintenance event will decrease as you will only be replacing the low-cost consumable items. You will be more in control of your budget and you will know where and when you will be spending the budget.
If you are wondering about how to switch from reactive to preventive maintenance strategy, it is important to know that it does not have to cost a fortune and it is something that you need to clearly communicate to your upper management.
Suggest a Test on a Smaller Scale
One of the first questions upper management will ask is how much is this plan going to cost us?
In an ideal world they should be more interested in potential savings, but we know that's not the case as nearly half of respondents in a recent maintenance survey admitted that they still look at maintenance strictly as a cost center.
However, there are ways of minimizing the financial costs associated with implementing a proactive strategy. For starters, you don't have to spend a single dollar to create a plan and implement it on a couple of your critical assets.
All you need to do is simply identify a few key assets and then develop and roll-out a preventive maintenance plan against those assets. You will then monitor performance over a period of time.
Things you will look for might include:
Frequency of machine breakdown or failure
Equipment downtime and lost production
Costs to repair or replace parts
After a few months, you can compare this against an asset still under the old reactive strategy.
You need to be able to properly present that to the people in charge. If you convince them that "testing" can be done without any major investment, they will be more inclined to give this a chance.
If you already have a Computerized Maintenance Management System (CMMS), drive the point home how using a CMMS will help you track all necessary information to clearly show them if you've made any saving with this initial rollout.
Next Steps
Adopting a proactive maintenance strategy and moving away from the fire-fighting activities of a reactive approach may feel daunting at first.
However, focusing on a few critical assets and taking a staged approach to manage the rollout to the rest of your plant machinery makes the task manageable.
The potential long-term savings are immense, considering how much expenditure on inventory and capital equipment a reactive maintenance strategy demands.
With a little bit of luck, people in charge at your organization will see the same.
Bryan Christiansen is the founder and CEO at Limble CMMS.