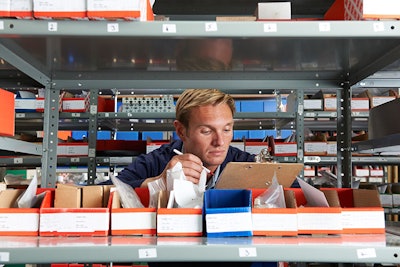 Has anyone seen "Bill" of the materials department? Bill works in the storeroom and goes by the nickname BOM. You may have heard of him? So who is BOM and why do we need him?
Material management is vital to the financial success of any company. Spending too much on spare parts decreases company profit. Too often, equipment material items (spare parts) are just a bunch of expensive components sitting around in a store room for long periods of time waiting for their day in the maintenance spotlight. This is the proverbial "maintenance insurance policy." That inventory comes at a cost and has its own cell in the business financial spreadsheet.
The fear of not having required spare parts often leads to over-stocking. Spare part availability has a direct impact on machine availability. Downtime waste is high if machines are not running while waiting on replacement parts. Also, scheduled planned maintenance work can only take place when the necessary materials are available. Without a good material management program, production downtime losses can be greater and planned maintenance scheduling can be a challenge. Both of these issues negatively affect overall equipment effectiveness.
Bill Of Material
Material (spare parts) inventory alone is not the same as a bill of material (BOM). Having materials and components in stock or listed in the company CMMS system is good. However, a BOM for each equipment item will provide the data to effectively manage the components needed to support that equipment. A BOM is the collective grouping of material items which are assigned to an equipment item or machine
center. This clarifies for the maintenance technicians and work planners which parts belong to specific equipment. Using the BOM to order items against specific equipment enables you to track actual material cost and usage. This cost and usage data can be used to focus on trouble areas and opportunities for improvement, which usually helps reduce the overall maintenance cost for the equipment.
Developing a BOM is not always easy. The process requires examining the manufacturer's documentation together with machine-specific drawings and schematics. Mechanical drawings and electrical schematics often contain part numbers used in the design of equipment, but during the build phase some components are exchanged for newer versions or go through a complete redesign. These changes are often overlooked on updates to initial design drawings and the components need to be verified on the equipment.
BOM structure development may include the use of material groupings. For example, for a pump, the bearings, seals and gaskets
can be grouped together and referred to as an assembly for that pump. Then the BOM assembly for that pump can be applied to other equipment BOM locations where the same pump is installed. The benefit is to create one BOM for a repetitive sub-system and apply it to the BOM of other usage locations. Then if a part number or item changes in the sub-system BOM, the update or change only has to take place in the one BOM instead of every
instance of the pump throughout the plant.
Upkeep and maintenance of the equipment BOM is another task that should not be overlooked. Component manufacturers make improvements and changes to the ever-evolving market of spare parts and individual components. BOM lists can change and some items will become obsolete. Identifying the BOM item availability issues early provides the time needed to prepare for changes before they become emergencies.
Using BOMs is also helpful when equipment is retired or removed from service. Carrying unnecessary material items in a storeroom is costly and wasteful to the maintenance budget. When equipment is removed from the business plan, the equipment BOM makes removing material items from stock a simpler and more efficient task.
Be sure to keep "Bill" of Materials up-to-date and part of your maintenance and materials program. The BOM should be a value-added strategy that protects production profit by preventing spending too much on spare parts.
Monroe Blanton is an asset maintenance specialist with Life Cycle Engineering. Blanton has more than 35 years of experience in engineering installations, maintenance and repair. His expertise is in automated manufacturing control systems, robotics, laser welding, pneumatics, hydraulics, measurement test systems, fluid dynamics and power generation. Contact Blanton at [email protected].