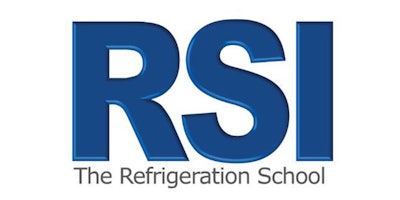 PHOENIX, AZ — The Refrigeration School, Inc. (RSI), a heating, ventilation, air conditioning, refrigeration (HVAC/R) school, announced a first of its kind partnership with Valley Metro Rail. The partnership provides specialized HVAC/R training for Valley Metro maintenance technicians to continue their career and technical development.
The Valley Metro Rail Refrigeration Training Program marks the first-time RSI has developed a custom program specifically designed around the unique needs of an individual employer, focusing on the niche HVAC/R equipment utilized on and in the ticketing areas of Valley Metro Rail.
"With today's HVAC/R systems more sophisticated than ever, the industry requires a workforce with specialized knowledge and skills for installations, maintenance and repairs," said Brandon Milligan, RSI president. "Our goal at RSI has always been to provide hands-on education with a strong emphasis on the highly sought after electrical skills, diagnostic and mechanical technology proficiency employers seek. We are proud to take this same approach into the field with Valley Metro, and offer continued career training that meets their specific needs."
The 100 hour, 5-week training course was developed by an expert RSI instructor at the request of Valley Metro, and focuses on the basics of refrigeration, maintenance and repairs as well as the specific equipment unique to Valley Metro Rail. Participants will receive individual, hands-on training for four hours a day.
"As one of the few light rail systems operating regularly in 100-plus degree heat, Valley Metro Rail requires a workforce with specialized knowledge and skills," said Ken Raghunandan, Valley Metro Rail Light Rail Vehicle Maintenance Superintendent. "RSI's custom training program will enable current and future Valley Metro Rail maintenance technicians to develop their career and technical knowledge, proving that transit not only connects riders to their jobs, it also creates and sustains careers."
Valley Metro Rail serves an average of 50,000 riders a day and operates along 26 miles in Phoenix, Tempe and Mesa. The Valley Metro Rail Refrigeration Training Program by RSI will help keep these commuters cool this summer and beyond.