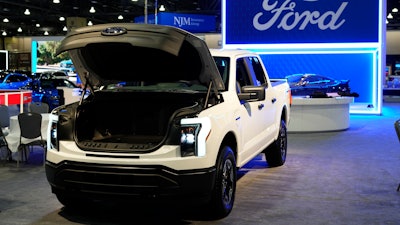 AP Photo/Matt Rourke, File
The sticker price on Ford's F-150 Lightning electric pickup is being lowered by thousands of dollars due to increased plant capacity, falling costs for battery raw materials and internal efforts to scale production by the Detroit automaker.
Ford Motor Co. said Monday that final upgrades at its Rouge Electric Vehicle Center in Michigan being completed now will lead to greater availability of a built-to-order truck as early as October at a manufacturer's suggested retail price closer to initial Lightning pricing.
The updated MSRP for the Pro model, it's lowest priced electric pickup, will be $49,995, down from $59,974. The Lariat 510A's MSRP will decline to $69,995 from $76,974.
"Shortly after launching the F-150 Lightning, rapidly rising material costs, supply constraints and other factors drove up the cost of the EV truck for Ford and our customers," said Marin Gjaja, chief customer officer, Ford Model e. "We've continued to work in the background to improve accessibility and affordability to help to lower prices for our customers and shorten the wait times for their new F-150 Lightning."
The price cuts arrive two days after Tesla said its first production Cybertruck electric pickup had rolled off the assembly line, nearly two years behind the original schedule.
Tesla has made aggressive price cuts across its portfolio in recent months as competition heats up and major automobile producers shift production toward electric vehicles.
The truck's 2019 unveiling veered off course when a window that was touted as unbreakable was spider-cracked when hit by a big metal ball, which prompted an expletive from Musk.
Tesla originally said it would make three versions of the truck, ranging from about $40,000 to $70,000. Later the company removed prices from the page where customers can decide whether to plunk down $100 and place an order.
Shares of Ford Motor Co. dipped almost 2% before the opening bell, and other EV makers like Rivian and Lucid fell. Shares of Tesla rose 2%.
Ford CEO Jim Farley and Tesla CEO Elon Musk announced in March that all of Ford Motor Co.'s current and future electric vehicles will have access to about 12,000 Tesla Supercharger stations in the U.S. and Canada starting next spring. Commercial customers can also access Ford Pro Charging solutions to keep their F-150 Lightning powered up whether charging at home or onsite at work.