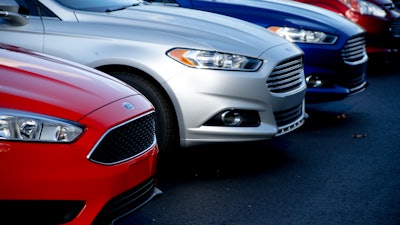 AP Photo/Keith Srakocic, File
DETROIT (AP) — Shortages of computer chips and other parts continued to hobble the U.S. auto industry last year, contributing to vehicle sales dropping 8% from 2021 to their lowest level in more than a decade.
But there's good news for consumers in the gloomy numbers: Vehicle supplies on dealer lots are growing, albeit slowly, and automakers expect at least a small easing in prices this year as inventories grow.
Automakers reported Wednesday that they sold 13.9 million cars, trucks, SUVs and vans last year as the parts shortage limited factory output amid high demand for new vehicles. It was the lowest sales number since 2011 when the economy was recovering from the Great Recession.
But sales were up slightly in the fourth quarter and inventories grew as parts supplies improved enough to increase production a little. Analysts are now expecting sales to grow by roughly 1 million to around 14.8 million this year as demand remains strong. But they'll still be far short of the normal 17 million per year before the pandemic.
With many models still in short supply, though, the average new vehicle price rose 2.5% in December to a record of just over $46,000, according to J.D Power.
There are signs, however, that prices may be starting to ebb a little as inventories expand.
Toyota, for instance, finished the year with just under 24,000 vehicles on Toyota and Lexus brand dealer lots nationwide. That's up from about 19,000 at the end of 2021, but still far short of the 300,000 during normal years before the pandemic.
The improvement, although small, is allowing consumers to haggle a little on some slower-selling vehicles such as sedans, and even some luxury vehicles. But they're still getting top dollar for gas-electric hybrids and other more popular vehicles that are sold before they arrive on lots, said David Christ, general manager of the Toyota Division.
For most of last year, people who wanted new vehicles had to pay sticker price or above and take whatever models and colors dealers could get. But dealers have told Christ that changed a bit in the past two or three months for models that aren't as popular. Plus, he said more people are interested in lower-cost vehicles because inflation and higher interest rates are taking a bite out of their budgets.
"They're coming in and saying, 'Hey, can I get a deal here?'" Christ said. "I do think that on some vehicles, not just in our brand, and across the industry, there has become a little more of a buyer's market where the customer can negotiate."
Whether that holds up all year remains to be seen. If demand stays strong and people are willing to pay sticker price, then dealers will get that, Christ said. But if demand wanes or supplies increase dramatically, discounts could rise and prices could drop a bit.
Jessica Caldwell, executive director of insights at Edmunds.com, said Toyota's experience is likely to repeat itself through the industry with small price decreases on some models.
"There isn't as much disposable income to be put into a vehicle," she said. "We've seen prices high before, but we've never really seen higher prices with the (higher) interest rates."
But electric vehicles and other hot sellers will remain expensive because people want to buy them now, she added.
Caldwell doesn't see vehicle supplies or prices returning to pre-pandemic levels this year, and she's not sure if we'll ever get back to 2019 levels.
The computer chip shortage dates to the spring of 2020, when automakers were forced to shut down factories due to rapidly increasing COVID-19 cases. Chip makers shifted production to consumer electronics to feed a computer and gaming sales boom when people were stuck at home. When the auto plants restarted earlier than expected, chip makers weren't making as many semiconductors for automobiles, which must be made to withstand vibration and huge temperature extremes.
Auto chip production has improved, but still isn't back to pre-pandemic levels, so auto plants still aren't back to their full output.
As a result, the 13.9 million vehicles that automakers sold last year was about 1.2 million below 2021 numbers, according to Motorintelligence.com.
General Motors, with full-year sales up 2.5%, retook its traditional spot as the nation's top selling automaker. Toyota, which won the crown in 2021, saw its sales fall 9.6% last year. Ford reports sales on Thursday.
Sales at Stellantis, formerly Fiat Chrysler, dropped 13%, while Honda sales plummeted 32.9%. Hyundai posted just under a 1% increase to outsell Nissan, whose sales tumbled 25.4%. Kia sales fell 1.1% for the year, while Subaru was down 4.7%.
Electric vehicle sales hit more than 807,000 last year, up almost 65% from 2021.
Pickups and SUVs were 77.3% of sales while cars dropped to 22.7%.