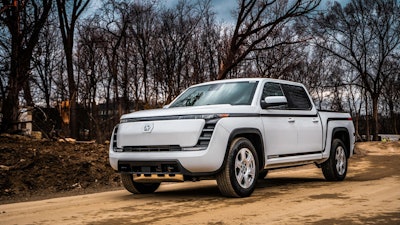 Lordstown
Lordstown Motors announced that its Endurance full-size battery-electric pickup truck has achieved EPA and CARB certification has been received and that the first customer vehicles have begun leaving the Foxconn EV Ohio plant for delivery.
WATCH: Lordstown Expecting Endurance Deliveries This Year
As the first units of the company's initial batch of 500 are leaving, Lordstown said production volume will ramp slowly and accelerate as it resolves supply chain constraints.
"I am very proud of the Lordstown Motors and Foxconn EV Ohio team for their hard work, grit, and tenacity in achieving this milestone. We are very excited to start delivering vehicles to our commercial fleet customers. The EnduranceTM will provide benefits to customers that use their vehicles for work. It optimizes key attributes of traction and maneuverability - with our in-wheel hub motors, safety - with our five-star crash performance, and value in the segment," said Edward Hightower, Lordstown CEO and President.