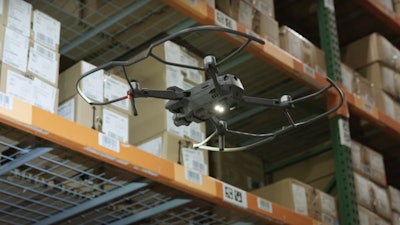 Gather AI
If you've ever experienced a manufacturing "line down" situation due to lost inventory, you know it can ultimately cost thousands of dollars per minute. For automotive manufacturers, it's estimated one minute of downtime costs $22,000 or $1.3 million per hour.
This can require purchasing teams to expedite the materials needed to get the line back up and lead to larger waste across inventory, overproduction and skill underutilization. Overall, it's a risk which could bleed to virtually all areas of a company.
However, what if there was a way to ensure your warehouse management system (WMS), manufacturing execution system (MES) or enterprise resource planning (ERP) data was always accurate and inventory could be tracked more quickly? I encourage you to explore drone-powered warehouse inventory monitoring.
Let's set the stage for why this technology is so important in today's business climate. The global warehouse market is expected to grow at 7.7% compound annual growth rate (CAGR) and reach $1.26 trillion by 2030, largely driven by manufacturing and logistics restructuring and ecommerce. With this huge opportunity comes the need for warehouses to be competitive.
According to McKinsey & Company's 2022 supply chain survey, of 113 supply chain leaders worldwide, representing organizations from various industries, 67% of them have implemented digital dashboards for end-to-end supply chain visibility. And, those companies were twice as likely as others to avoid supply chain problems caused by the disruptions of early 2022.
So, how can you implement drone-powered inventory monitoring in your manufacturing facility, and how does it work day-to-day? Let's dive in.
How this Tech Works
To begin, the inventory-monitoring software vendor maps your storage locations, sets up your drones, then you can use the software via a digital dashboard to determine locations to scan for specific pallets, lot codes, license plates, expiration dates, empty locations and more. The drone flies autonomously with this direction and gathers the data for you, replacing the need for this to be done manually.
You can view this actionable inventory data on a dashboard and compare it with the WMS. Some dashboards even allow you to set "inventory actions," which are a to-do list for your staff. When they complete the task, they just check it off the list. With some vendors, you can even set up drones to scan overnight while the rest of your staff sleeps.
This solution works in both the front-end and back-end of the manufacturing process - specifically for the manufacturing line to ensure there's enough inventory for production and in the shipping warehouse, so companies can find the inventory they need.
At Gather AI, our proprietary artificial intelligence (AI) allows the drones to fly in warehouses with no GPS and our machine learning (ML) algorithm analyzes inventory pictures to identify the information that warehouse operators need. The more warehouses we deploy in, the better our AI and ML gets.
It's important to note, companies ideally suited for this type of technology are those that store their inventory on pallets on racks.
Faster Monitoring
A key benefit of this technology is faster, more efficient inventory monitoring, which means better "first-in-first-out (FIFO) management, rotation, space optimization and much more - all contributing to lower costs and improved productivity.
An employee doing cycle counting may normally be able to scan 60 per hour, but a drone can scan 900 per hour, increasing productivity by 15 times. One person can operate three drones at a time and especially for manufacturers who want to ensure that they have the inventory they need for production, they can conduct full facility inventory far more frequently and potentially reduce or eliminate physical inventories.
Better Employee Utilization & Safety
With this technology, employees can resolve inventory errors from their desks and it frees them up for more value-added activities like researching variances, auditing and training to support operations.
As briefly mentioned above, this technology can also make your warehouse much safer. According to the National Safety Council, forklifts, including order pickers and powered platform trucks, were the source of 70 work-related deaths in 2021 and 7,290 nonfatal injuries in 2020. Instead of asking employees to manually cycle count at heights using these types of equipment, entrust that responsibility to a drone.
---
Sean Mitchell oversees customer operations for Gather AI. Customers span third-party logistics, retail distribution, manufacturing, food & beverage and health & wellness. He has over 10 years of experience in supply chain and opto-electronic manufacturing, working in engineering, operations and sales. Prior to Gather AI, he was with Fabrinet and Anybots. Sean received a BS in Mechanical Engineering from Cornell University and resides in Redwood City, CA.