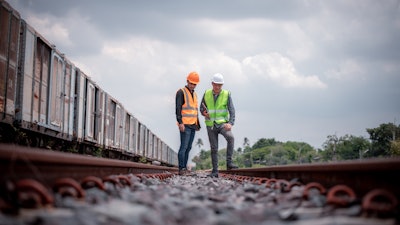 iStock
Stalled contract talks between railway companies and its workers had raised concerns over a major rail strike until last week.
Railway companies said halting rail service would have caused a $2 billion-per-day economic hit. However, a bill passed by Congress and signed by President Joe Biden on Friday bound workers and rail companies to a proposed settlement — avoiding an economically devastating work stoppage.
READ MORE: Senate Passes Bill to Avert Rail Strike
The bill's passage came after a third of the involved unions rejected a settlement brokered by the Biden administration, which created the possibility of a strike on Dec. 9.
According to Dr. Ethan Karp, president and CEO of business management consulting company Manufacturing Advocacy and Growth Network (MAGNET), it would not have taken long for the effects to trickle through the economy.
Karp explained how Rust Belt food, fuel, cars and chemicals manufacturers only have a few days' worth of raw materials and space for finished goods, and that the effects of a strike would be passed along to their customers.
"For those companies relying on daily shipments, production would have halted," Karp said. "Soon after, all production would have halted because shipping anywhere would become prohibitively expensive."
Most shipping eventually relies on rail, and with freight coming to a halt, the pressure would fall on truckers to pick up the slack. However, the trucking industry wouldn't come close to catching up — especially with the truck driver shortage.
"There aren't enough truck drivers to substitute even if the skyrocketing prices of transport were overcome," Karp said. "This is a major reason there is a law for Congress to intervene and why it happens every time."
Karp is a trained scientist in physics, chemistry and biology, and has spent years working to solve complex business problems at McKinsey and Company. For the past eight years, Karp has applied his technical and business experience to building a regional effort to build a preeminent center for manufacturing innovation in Northeast Ohio.
The previous two years have presented several manufacturing disruptions, and Karp sees common trends.
"Each one — COVID shutdowns, Texas freeze of chemical companies, canal blockages, geopolitical uncertainty and disruption — have had the same effect: inflation and delays in production," Karp said. "This strike might have been worse than all of these combined, but not different. Finely tuned manufacturing lines require everything to work perfectly to deliver complex, integrated production perfectly each time."
Every time a disruption occurs, many ask how to prevent it and prepare for future problems. Karp recommends local supply and having stock on hand.
"Both of these come at a cost premium and may not be worth it unless the law changes," Karp said. "The ramifications of stopping trains for any length of time are so incredible; it is a small risk today for the cost. Focusing instead on more North America production is incredibly important because a much more likely scenario is disruption from countries like China, something we have already seen in the last two years with their zero-COVID policies."