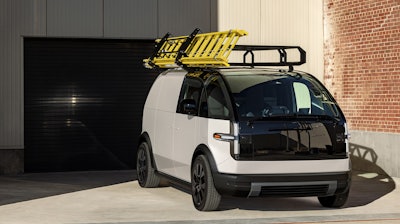 Canoo
Canoo has announced a binding order for 9,300 American-made electric vehicles from Kingbee, a national work-ready van rental provider, with an option to increase to 18,600 vehicles. Kingbee will upfit, wrap and deliver Canoo vehicles as work-ready fleets solutions for enterprise and small & medium sized business (SMB) customers across the U.S.
Canoo vehicles are American-made commercial electric vehicles built on the company's proprietary multi-purpose platform (MPP) architecture, with modular configurations for a range of use cases. Canoo provides most of the vehicle service, maintenance and updates over the air, which decreases vehicle downtime and increases ROI for fleet operators.
The LDV combines 120 cubic feet of configurable cargo volume with an 80kwh battery pack with the handling and turning radius of a small passenger vehicle, making it a safer and more familiar experience for drivers.
Kingbee provides a solution for fleet rental, delivering fully upfitted commercial solutions with optional signage to operators with flexible leasing terms. With customers in 27 states and growing, Kingbee is focused on flexible solutions for small and medium businesses.
Kingbee customers are enterprise level and regional businesses that are looking to focus their capital on business growth at scale. Clients include Sunrun, Nivo Solar, Blue Raven, Utah Dept. of Health, and industries including energy, plumbing, mobile health, electrical, construction and delivery.