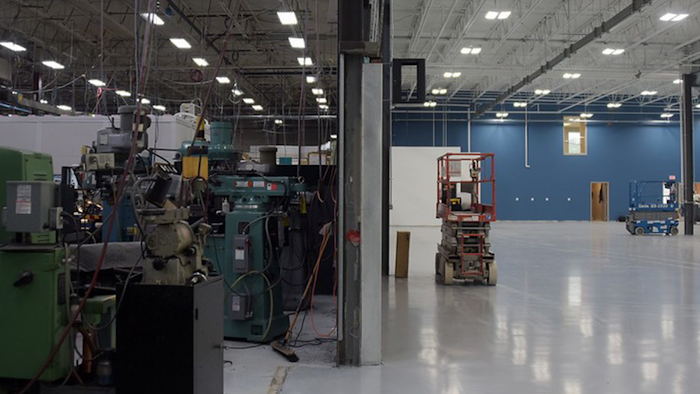 WINDSOR, CT — As the sky-high demand for jet engines shows no signs of slowing down, one Connecticut manufacturer is rising up to meet the challenge. For over three decades Aero Gear in Windsor has been a key player in complex gearbox assemblies for the global aerospace market. Now the company continues to set a course for success as it completes a 24,000 sq ft expansion of its facility.
"In trying to meet the increased orders from our customers, it became obvious that additional people and machines were necessary, and the only way to accommodate this was through enlarging our physical space," says Doug Rose, Founder of Aero Gear.  "Although we have clients around the world, the expansion demonstrates that we are committed to the long-haul in Connecticut."
Rose points to the simultaneous growth of the commercial and military defense industries and their need for assembled gearboxes as a prime catalyst for increased production. Aero Gear makes the power drive gear systems for fixed and rotary wing aircraft. The mechanisms are as essential as the combustor that creates the thrust for the engine — the "brain" behind the brawn, and thus, requires the highest quality precision engineering and manufacturing.
Aero Gear's proprietary Flow Line concept is based on providing the best quality, shortest lead time and reasonable cost by eliminating waste in the process. The overall majority of their Lean Flow processing is conducted within their modern climate controlled 69,000-square-foot facility, including unique gear processing capabilities such as Low Pressure Vacuum carburized and hardened heat treatment, super finishing, balancing, and non-destructive testing.  The new space will have a total of 100,000 square feet with 175 employees, plus provide a brand new lobby, conference room, offices, and manufacturing space for several new programs.
Rose notes the entire team is constantly striving to reach new heights of performance from design capabilities and prototyping gear development to advances in manufacturing through Continuous Improvement initiatives. Aero Gear's unparalleled expertise was recently awarded the recognition of "Elite Supplier" from longtime customer, Lockheed Martin Sikorsky Aircraft. This is the second year in a row that Lockheed has chosen the company for such a prominent award.  The award honors consistency, reliability and resourcefulness. Aero Gear's superior product development and support service also earned them United Technologies Corporation's rank of "Gold Supplier" for a second year.
"Our achievements are directly connected to the efforts by the Malloy administration in strengthening the aerospace cluster in our state," said Rose. "Incentives to support Pratt & Whitney and Sikorsky to remain strong in Connecticut have had a flow down effect on specialized companies like ours."
Governor Malloy and scores of high-powered political and business leaders will celebrate the grand opening of Aero Gear's new space at a ceremony on Tuesday, June 12th. The event kicks off with a reception at 11 a.m. featuring hors d'oeuvres and refreshments followed by:
Special guest speakers Governor Dannel Malloy and CT Department of Economic and Community Development Catherine Smith.
Official ribbon cutting with Aero Gear management, employees and VIPs
Shop tours of the new addition and existing manufacturing facility with demonstration stations in the Inspection, Gear Grind, Heat Treat, Robot, and Assembly Areas.
Attendees will also learn how Aero Gear works in harmony with the entire global gearbox industry to provide integral parts for the aerospace industry. While the CT company is the top gear manufacturer in the East Coast corridor, it shares knowledge with others in the field. 
As Aero Gear keeps contributing to the state's economy, it is also creating skilled employees through its impeccable training program. The company also actively works with state community colleges to customize a curriculum to put graduates in the field immediately after graduation.
"Our goal is to utilize knowledge-based expertise to practical benefit so as masters of our trade, we are able to offer superior product development and support service whether for gearbox assemblies or individual gears," said Rose. "This is an unprecedented era of growth for our industry and we are incredibly proud to be a key contributor."