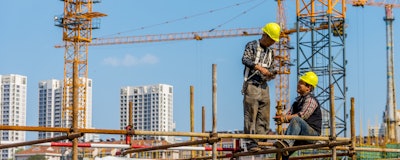 America is a land of opportunity, and nowhere is that more apparent than in the construction industry. It's the classic American story: someone can start on the ground floor (literally) and work their way into a highly technical profession (or management, or entrepreneurship, or all the above). The challenge is connecting job seekers to those opportunities during a time of low unemployment and workforce shortages. Fortunately, the construction industry is collaborating with governmental and educational institutions across the country to address this critical issue and ensure skilled workers are available to build, maintain and expand manufacturing facilities.
Why the Disconnect?
The U.S. labor force has grown by more than 24 million workers in the past 10 years. America's job-creation engine is going strong, and the unemployment rate is low. However, the relative scarcity of workers is making it difficult for employers to fill open positions (which are rapidly multiplying).
The situation is evident in the construction industry. Construction added 228,000 workers between March 2017–18, and more are needed. The U.S. Bureau of Labor Statistics has looked at several construction-related job categories and sees continued job creation between 2016–26:
180,500 new jobs for construction laborers and helpers
83,800 jobs for carpenters
44,800 jobs for construction managers
34,200 jobs for masonry workers
22,900 jobs for cost estimators
22,500 jobs for welders
16,200 jobs for roofers
12,000 jobs for sheet metal workers
11,400 jobs for ironworkers
These numbers don't include all the jobs that will need to be filled as the baby boomer generation leaves the workforce. Earlier this year, the Bureau of Labor & Statistics estimated the number of current job openings in construction at nearly 200,000. Similarly, a recent report published by the Conference Board, a 501 nonprofit research organization, found the construction industry faces a projected job shortage of more than 90 percent. A nagging labor shortage can lead to higher construction costs and delayed completion time for projects.
Jobseekers Get a Boost From Congress
In September of 2017, Congress overwhelmingly passed a reauthorization of the Perkins Act. This act is designed to improve career and technical education (CTE) in the United States. The workforce development legislation reauthorizes and reforms the Carl D. Perkins Career and Technical Education Act, originally passed by Congress in 1984. It will provide more Americans with the education and skills they need to compete for high-skilled, in-demand jobs in the construction and manufacturing fields. The new legislation is designed to ensure career and technical education is flexible enough to adapt to the needs of emerging industries.
On June 14, 2018, the White House announced its efforts to encourage action in the U.S. Senate to reauthorize the Perkins Act after months of stalled negotiations in a statement from Deputy White House Press Secretary Hogan Gidley.
"The important legislation benefits more than 11 million Americans across the country and is integral to the administration's working families and work-force development agenda," Gidley said.
CTE programs are a critical means of preparing students for successful careers by bridging the gap between high school and post-secondary education and training. Throughout recent history, our education system has focused more on preparing high school students for college, and less on vocational programs that can lead to rewarding careers in the skilled trades. In fact, many students are never exposed to careers in the skilled trades.
A key feature of the new legislation is the ability of the states to have flexibility in using federal resources to develop programs that are tailored to the specific needs of companies in their communities. In addition, the legislation will improve alignment between in-demand jobs and learning opportunities through employer engagement and community partnerships. CTE programs will be focused on work-based learning programs, employability skills, and credentialing. Students can earn their post-secondary training, while working, through a registered apprenticeship or craft training programs, and avoid student loans and high debt.
Industry Takes the Initiative
If jobs are to be filled, industry organizations must play an active role, identifying sources of untapped talent then taking part in training efforts. Several strategies are already in place and gaining momentum:
Recruiting the Next Generation — ​Several leading construction industry organizations are launching programs to introduce students to careers in construction. For example, in June the Associated Builders and Contractors (ABC) announced a collaboration with more than two dozen real estate industry trade associations to create a new website, CareersBuildingCommunities.org. The single website allows students in high school, college, trade school or community college to explore different positions, property types and career paths, according to an ABC press release. Some local chapters of the ABC have forged partnerships with area schools to encourage students, parents, and educators to explore the various career opportunities in construction.
Similarly, several Associated General Contractors (AGC) chapters support construction charter schools to train high school students. AGC groups also bring awareness to career opportunities by participating in job fairs and classroom visits.
Training At-Risk Youth — Despite low unemployment rates, there are more than 3 million people aged 16–24 who aren't working and aren't in school. That's more than the population of Kansas. There are outreach efforts aimed at these disconnected youths. The U.S. Department of Labor received $89 million in grant funding this year for "YouthBuild," which teaches young people construction skills as they build facilities such as community centers and low-income housing.
Supporting Veterans — Thousands of military members have returned from overseas tours with vocational skills as well as valuable soft skills — such as work ethic, teamwork and leadership. However, it is sometimes difficult for them to communicate their abilities in language that applies to the civilian workforce. As of 2017, there were 370,000 unemployed veterans in the United States. The National Center for Construction Education & Research (NCCER) sponsors "Hard Hat Heroes", which helps translate military training in areas such as carpentry and masonry into civilian credentials. ABC and the U.S. Veterans Business Alliance (USVBA) recently signed a memorandum of understanding to collaborate on expanding the participation of veteran and disabled veteran businesses in the merit shop construction industry. AGC has joined forces with the U.S. Chamber of Commerce's "Hiring our Heroes" program as part of an industrywide effort to hire 100,000 veterans over five years. Also, "Helmets to Hardhats" helps connect veterans to low-cost and no-cost training programs in the construction trades, including training for disabled veterans and those with no prior experience.
Women in Construction — While women make up nearly half the U.S. workforce, they hold only nine percent of construction jobs. Individual companies are launching grassroots initiatives to promote construction as a career opportunity for women. The National Association of Women in Construction has established formal partnering agreements with several organizations throughout the United States. NAWIC's core purpose is enhancing the success of women in the construction industry
Boosting Apprenticeships — Apprenticeship programs have ramped up nationwide, allowing students to gain job skills and position themselves for a career before they graduate from school. The Labor Department is advocating for the expansion of apprenticeships in several industries, including construction. In March, The Home Depot Foundation announced it would invest $50 million to help train 20,000 new skilled tradespeople by 2028. In addition, Lowes announced its "Track to the Trades" pre-apprenticeship and apprentice program for their employees that will provide career alternatives and financial support.
Collaborating with Educators — The Workforce Innovation and Opportunity Act was passed with the intent of improving coordination among federally funded career and technical education programs and creating a system driven by the workforce demands of local communities.
There's a lot going on to ensure the construction industry can meet the needs of a growing national economy, but there's more to be done. And there's a role for all stakeholders in the process, whether it's hands-on support of specific initiatives or advocating for the many career opportunities available in construction.
Brian Gallagher is Vice President of Marketing at O'Neal, Inc.