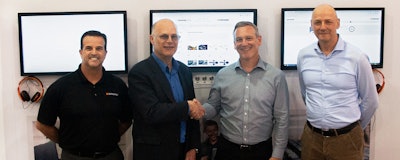 Global electronics industry association IPC has partnered with the Swiss-based technology group Schleuniger to offer IPC members online wire processing training from Schleuniger's S.University. Making these renowned training courses available through the IPC EDGE online portal will allow companies the flexibility to train their employees in a cost-effective, simple and efficient way.
IPC has officially contracted with the Swiss-based technology group Schleuniger that will now serve as an official online training partner offering IPC members S. University training course offerings. Schleuniger, renowned for their high quality and precise knowledge transfer in wire processing, debuted S. University in 2013 and launched the storefront globally in 2018. In creating this partnership, IPC has responded to the Wiring Harness Manufacturer's Association's (WMHA) request for more wire industry training tools.
IPC, known and respected for its leadership and global footprint in providing standards and quality programs supporting the electronics industry, secures with Schleuniger an online training partner that is also a prestigious, trusted and highly competent player in the wire harness industry. Based on almost half a century of industry experience, Schleuniger continuously sets global standards for top quality and as a strategic system partner accompanies its customers through their production processes with a wide range of machines, software and test equipment, as well as customized and fully automated solutions.
David Hernandez, IPC's vice president of education, was the driving force behind the creation of this new partnership. Commenting on the new online training partnership Hernandez stated, "IPC strives to provide the best training possible to our member companies, and when we saw the quality of Schleuniger's S.University wire processing course offerings, we determined it was in the best interest of our members to develop an online partnership with Schleuniger."
Knowledge Acquisition Made Easy
Companies will be able to easily train their employees online from the comfort of their offices via the IPC EDGE training portal in early fourth quarter 2019, providing highly professional, fundamental and innovative knowledge in wire processing to their teams. With Schleuniger's S. University courses, operators, supervisors and maintenance personnel can be instructed according to their level of expertise. Additionally, new employees and students can be onboarded with programs covering the foundations of wire processing, and the whole team can be kept up to date on the latest techniques and technology developments thanks to refresher courses.
IPC will initially offer Schleuniger's S. University courses on its IPC EDGE platform including, a six-module course in wire processing foundations, a two-module course in wire and cable construction, as well as training lessons on crimp quality, pull testing and crimp height measurement. All courses will be available in English and Spanish. Marc Lussier, Head of Group Technical Service & VP Technical Services North America and creator of Schleuniger's S. University training universe, concludes, "It is important to us that we address a global audience, so we already have plans to expand not only the variety of course offerings but also the languages in which we offer them."