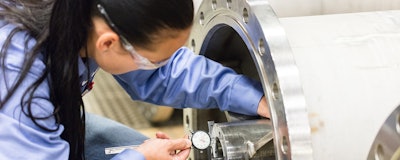 In support of International Women's Day, Sulzer has announced it will champion the Empowering Women in Industry association by serving as the official social media sponsor for its 2019 Conference and Gala, taking place on Sept. 26 in Chicago, Illinois. This reflects the company's longstanding commitment to support women in the largely male-dominated engineering sector.
The Empowering Women in Industry Conference and Gala celebrates the success and impact that businesswomen have, as well as helping to create the next generation of female leaders in an inspiring and encouraging environment.
Sulzer, a specialist in services for rotating equipment, pumping solutions, separation, mixing and application technology, is well-aligned with Empowering Women in Industry's goals. Sulzer fosters an inclusive and non-discriminative culture in the workplace and is dedicated to providing women with the right tools to become competent professionals and break into leadership roles.
Mentoring and training are key activities implemented by Sulzer to develop management skills among its employees. Sulzer's training program has been proven highly successful, as it is encouraging more young women to enter engineering fields.
This, as well as other initiatives, will be discussed during the Empowering Women in Industry event by some of Sulzer's highly successful women in leadership roles, who will be part of the Conference line-up.
"While there are more opportunities than ever for women in industry, they still face access and upward mobility challenges, particularly the engineering sector." says Jennifer Cardillo, Marketing and Communications Manager at Sulzer and member of the Empowering Women in Industry steering committee. "It is our responsibility to promote gender equality. By supporting Empowering Women in Industry, Sulzer is continuing to drive change within and outside of its organization. At the Conference and Gala, we look forward to contributing to the conversation around female empowerment and leadership."
The Empowering Women in Industry Conference and Gala will take place on Sept. 26, 2019 at the Chicago Athletic Association Hotel.