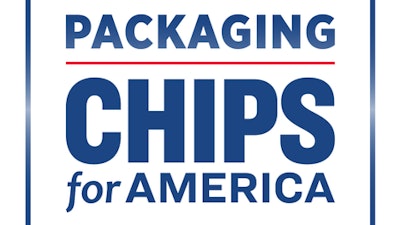 A. Kim/NIST
The Biden-Harris administration announced its vision to boost U.S. capabilities for advanced packaging, a technology for manufacturing state-of-the-art semiconductors.
Approximately $3 billion in funding for the National Advanced Packaging Manufacturing Program will be used to drive U.S. leadership in advanced packaging. An initial funding opportunity for this program is expected to be announced in early 2024.
"Making substantial investments in domestic packaging capabilities and R&D is critical to creating a thriving semiconductor ecosystem in America," Secretary of Commerce Gina Raimondo said. "We need to make sure new leading-edge chip architectures can be invented in our research labs, designed for every end-use application, manufactured at scale and packaged with the most advanced technologies."
To outline the vision, CHIPS for America published "The Vision for the National Advanced Packaging Manufacturing Program" (NAPMP), which details the vision, mission and objectives for the advanced packaging program created by the bipartisan CHIPS and Science Act.
The NAPMP is one of four CHIPS for America R&D programs that together are establishing the innovation ecosystem needed to ensure that American semiconductor fabrication facilities, including those funded by the CHIPS Act, produce the world's most sophisticated and advanced technologies.
Advanced packaging is a design and manufacturing method that places multiple chips with a variety of functions in a densely interconnected two or three-dimensional "package." This design paradigm can help the sector achieve the ever denser, smaller dimensions that the most advanced semiconductors require.
Advanced packaging requires an interdisciplinary approach that brings together chip designers, materials scientists, process and mechanical engineers, measurement scientists and more. It also requires access to resources such as advanced packaging facilities.
Developing these advanced packaging capabilities in the U.S. is a key step in furthering the country's technological leadership and economic security. Therefore, the CHIPS for America R&D programs will support the development of advanced packaging technology in the U.S. that can be deployed to manufacturing facilities, including recipients of CHIPS manufacturing incentives.
The approximately $3 billion program will be dedicated to activities that include an advanced packaging piloting facility for validating and transitioning new technologies to U.S. manufacturers, workforce training programs to ensure that new processes and tools are capably staffed and funding for projects that focus on:
materials and substrates

equipment, tools and processes
power delivery and thermal management
photonics and connectors
chiplet ecosystem
co-design for test, repair, security, interoperability and reliability
The department anticipates announcing the NAPMP's first funding opportunity — on materials and substrates — in 2024. Additional announcements about the investment areas, including a packaging piloting facility, will follow.