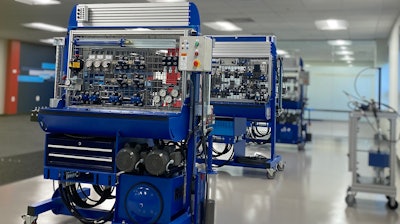 Bosch Rexroth
Bosch Rexroth has announced the grand opening of a new "Hydraulics Training Center" in Bethlehem, Pennsylvania.
The center features three advanced training stations, offering practical, hands-on experience. The facility includes a fully equipped classroom, a conference room, a lounge area and a café. Lockers and a wash-up area are also available.
The training center caters to both newcomers and advanced users, covering a wide range of subjects, including hydraulics, electric drives, control technology and more. Equipped with standard industrial components, these systems adhere to internationally standardized programming languages with open interfaces, ensuring that trainees are thoroughly prepared for their future roles in the industry.
Classes at the Hydraulics Training Center are scheduled throughout the year, allowing individuals to choose sessions that best fit their needs. The first set of classes begins in January 2024, with more sessions following in the subsequent months.
Courses that will be offered:
Basic Hydraulics: This introductory course is tailored for those new to hydraulics, delving into fundamental principles.
Proportional Hydraulics:

This course explores electro-proportional hydraulic valves, their operation, control and troubleshooting.

Hydraulic Setup, Commissioning and Maintenance:

Providing practical knowledge in planning and executing hydraulic system work, measuring performance and problem-solving.

Design Considerations for Industrial Hydraulics: T

his course covers load evaluation and valve selection.

Hydraulic Pump/Motor Controls: Enhancing knowledge

of fixed and variable displacement piston pumps, motors and control technologies.