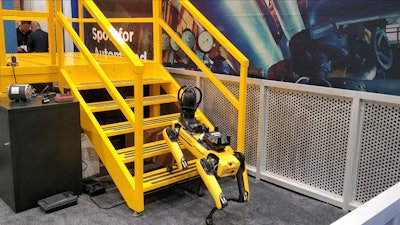 Nolan Beilstein
Boston Dynamics announced new features and hardware for Spot, the company's mobile robot that navigates terrain and allows for the automation of routine inspection tasks and data capture.
Improved Inspection Workflows
Industrial tasks like thermal monitoring, acoustic leak detection and gauge reading are made easier through automated inspection solutions.
Thermal Inspection:

Capture multiple regions of interest in a single photo. View and compare temperatures across the photo in data review and set alerts for temperature differences between up to three regions of interest.

Gauge Reading: Inspect analog gauges across a site, monitor trends through the Scout browser application and trigger alerts on abnormal readings with a gauge reading computer vision add-on provided by Levatas.
Acoustic Imaging: Trigger acoustic inspection actions that provide alerts on abnormal noise readings with a Fluke SV600 payload.
Scout User Improvements: Our remote operation software Scout now features new permissions sets and a dashboard to review the robots' progress. For all inspection types, users can now edit mission and action parameters later in Scout, without needing to re-record a mission.
Human-Oriented Hardware
Redesigned hardware and new robot behaviors reshape how Spot interacts with a team on the ground.
Audio Visual System: Spot comes with new hardware, pre-configured with light patterns and tones that will alert workers that the robot is performing actions in the area.

Emergency Stop: Physical e-stop button added to the back of the robot, in addition to the existing quick stop options on the tablet and in Scout.
Slippery Floor Enhancements: Spot's improved gaits make the robot more stable on slippery surfaces such as wet floors.
Moving Object Detection: The robot can now detect moving objects such as people or forklifts when a Spot EAP 2 payload is attached. When the robot identifies a moving object in its path, it will signal, keep a safe distance and exercise increased caution as it continues on its mission.
Beginning of Autonomous Manipulation
In this release, the Spot Arm can now open doors autonomously during Autowalk missions. Although this is still a beta feature, it will open up new inspection routes and allow Spot to move from room to room on its own, even in a completely empty facility.