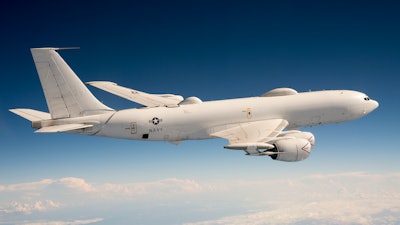 Northrop Grumman
Northrop Grumman announced that the first E-6B Mercury Aircraft has been successfully delivered back to the U.S. Navy.
For Similar Content: Subscribe to Daily Newsletters
Five kits were successfully integrated onto the E-6B platform, implementing efficiencies and improving aircraft command, control and communications functions.
Northrop Grumman was awarded the Integrated Modification and Maintenance Contract (IMMC) for the Navy's E-6B Mercury platform, a derivative of the commercial Boeing 707 aircraft, in February 2022. The work was performed at Northrop Grumman's Aircraft Maintenance and Fabrication Center in Lake Charles.
As part of the critical Take Charge and Move Out (TACAMO) strategic communications mission, the E-6B operates across a wide-frequency spectrum to transmit and receive secure and non-secure voice and data information. The aircraft provides survivable, reliable and endurable airborne command, control and communications in support of the President, Secretary of Defense and United States Strategic Command.
The second aircraft has already arrived in Lake Charles, and capability upgrades, integrations and tests on the aircraft are underway. Over the next several years, Northrop Grumman will continue to perform these modifications to the Navy's E-6B aircraft, improving command, control and communications functions that connect the NCA with the United States' nuclear triad. The company will establish a consolidated production line for core modifications required under the $111 million contract.