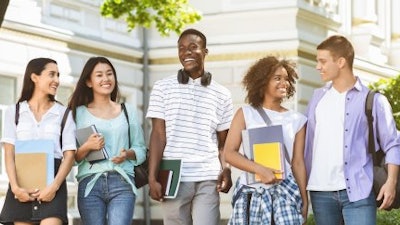 Emerson
Emerson invites U.S. students pursuing collegiate degrees in science, technology, engineering and math (STEM) fields to apply for its 2023 Emerson Discrete Automation Scholarship.
The merit-based award recognizes two ambitious problem-solvers with a $5,000 scholarship, eligibility for an Emerson internship and a $1,000 research grant for their college. With the grant, the winners' colleges can support and fund STEM programs or enhance their engineering programs. Applicants may apply through July 31.
"We all benefit when skilled, motivated individuals can focus on their passions," said Jenny Lenhard, president, Industrial Automation at Emerson. "With the right support, we can better position promising leaders so they can solve complex challenges and drive leading-edge innovation that makes our world and its future safer, smarter and more sustainable. The Emerson Discrete Automation Scholarship directly invests in these individuals and their STEM educations, supporting their success as they go from talented students to highly valued members in their industry."
Emerson's Discrete Automation Scholarship rewards individuals pursuing STEM professions in fields such as engineering, instrumentation, systems and automation that are critical to discrete automation applications. The financial support and recognition provided by the scholarship helps students with great potential emerge as leaders ready to shape their field.
The Emerson Discrete Automation Scholarship is part of the technology, engineering and software leader's many STEM initiatives. Since 2007, Emerson has partnered with more than 350 universities and technical colleges and donated millions to STEM programs.
Through the 17-year history of the scholarship program alone, 28 visionary students have received a total of $180,000 in scholarships and research grants for their colleges. The company has also sponsored ground-breaking, student-led projects, and over 30 Emerson-hosted "We Love STEM" events have reached more than 2,000 students in 12 different countries.
Only U.S. citizens and legal U.S. residents may apply. Eligible applicants will have completed their sophomore year in a bachelor's degree program or are enrolled in a graduate program at an accredited U.S. educational institution at the time of application.