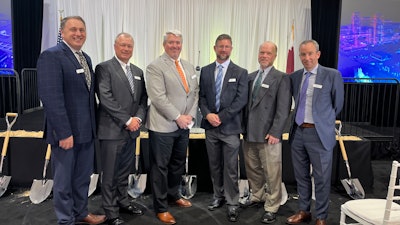 Emerson
Global technology and software leader Emerson will provide automation technologies, software and analytics from its Plantweb digital ecosystem for the Golden Triangle Polymers Project, a world-scale integrated polymers facility on the Texas Gulf Coast. The total installed cost of the project is expected to be $8.5 billion and is a joint venture between Chevron Phillips Chemical Company LP and an indirect subsidiary of QatarEnergy. Operations are expected to begin in 2026.
Designed using the latest greenhouse gas (GHG) emissions reduction technology, the project aims to have approximately 25% lower GHG emissions than similar facilities in the United States and Europe.
"With its digital automation technologies, industrial software portfolio, and deep energy experience, we are relying on Emerson to help ensure a project of this magnitude operates safely and reliably, optimizes energy use and mitigates emissions," said David Godard, project director for the Golden Triangle Polymers Project.
The Golden Triangle Polymers Project, located in Orange, Texas, includes a 2,080 KTA ethane cracker as well as two 1,000 KTA high-density polyethylene units. Polyethylene is used to produce durable goods and essential packaging to protect food and keep medical supplies sterile.
Emerson will deliver integrated process control and safety systems that leverage advanced predictive technologies to reduce operational complexity and minimize project risk through its DeltaV distributed control and safety instrumented systems, and Rosemount gas analyzer and chromatograph solutions. The project also leverages Emerson's Mimic and AspenTech HYSYS simulation software for operator training, energy management, safety analysis and operational optimization. Emerson's AgileOps operations management software and alarm management services will help staff monitor and maintain safety, alarms, and the control system to drive improved process and operational integrity.
The Golden Triangle Polymers Project is located about 113 miles east of Houston in the "Golden Triangle" region of Texas that encompasses the city of Orange.