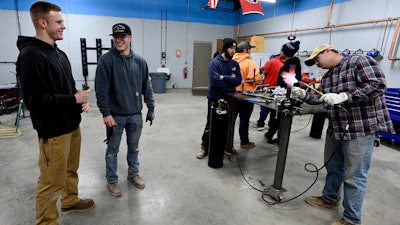 AP Photo/Mark Zaleski
JACKSON, Tenn. (AP) — Hundreds of thousands of young people who came of age during the pandemic have not gone to college. Many have turned to hourly jobs or careers that don't require a degree, while others have been deterred by high tuition and the prospect of student debt.
What first looked like a pandemic blip has turned into a crisis. Nationwide, undergraduate college enrollment dropped 8% from 2019 to 2022, with declines even after returning to in-person classes, according to data from the National Student Clearinghouse. The slide in the college-going rate since 2018 is the steepest on record, according to the U.S. Bureau of Labor Statistics.
Economists say the impact could be dire.
At worst, it could signal a new generation with little faith in the value of a college degree. At minimum, it appears those who passed on college during the pandemic are opting out for good. Predictions that they would enroll after a year or two haven't borne out.
Fewer college graduates could worsen labor shortages in fields from health care to information technology. For those who forgo college, it usually means lower lifetime earnings — 75% less compared with those who get bachelor's degrees, according to Georgetown University's Center on Education and the Workforce. And when the economy sours, those without degrees are more likely to lose jobs.
"It's quite a dangerous proposition for the strength of our national economy," said Zack Mabel, a Georgetown researcher.
In dozens of interviews with The Associated Press, educators, researchers and students described a generation jaded by education institutions. Largely left on their own amid remote learning, many took part-time jobs. Some felt they weren't learning anything, and the idea of four more years of school, or even two, held little appeal.
At the same time, the nation's student debt has soared. The issue has loomed large in the minds of young Americans as President Joe Biden pushes to cancel huge swaths of debt, an effort the Supreme Court appears poised to block.
Some counselors and principals were shocked to see graduates flocking to jobs at Amazon warehouses or scratching together income in the gig economy.
The shift has been stark in Jackson, Tennessee, where just four in 10 of the county's public high school graduates immediately went to college in 2021, down from six in 10 in 2019. That drop is far steeper than the nation overall, which declined from 66% to 62%, according to the Bureau of Labor Statistics.
Jackson's leaders say young people are taking restaurant and retail jobs that pay more than ever. Some are being recruited by manufacturing companies that have aggressively raised wages to fill shortages.
"Students can't seem to resist sign-on bonuses and wages that far exceed any that they've seen before," said Vicki Bunch, the head of workforce development for the area's chamber of commerce.
Across Tennessee, there's growing concern the slide will only accelerate with the opening of several new manufacturing plants. The biggest is a $5.6 billion Ford plant near Jackson that will produce electric trucks and batteries. It promises to create 5,000 jobs, and its construction is already drawing young workers.
Daniel Moody, 19, was recruited to run plumbing for the plant after graduating from a Memphis high school in 2021. Now earning $24 an hour, he's glad he passed on college.
"If I would have gone to college after school, I would be dead broke," he said. "The type of money we're making out here, you're not going to be making that while you're trying to go to college."
America's college-going rate was generally on the upswing until the pandemic reversed decades of progress. Rates fell even as the nation's population of high school graduates grew, and despite economic upheaval, which typically drives more people into higher education.
In Tennessee, education officials issued a "call to action" after finding just 53% of public high school graduates were enrolling in college in 2021, far below the national average. It was a shock for a state that in 2014 made community college free, leading to a surge in the college-going rate. Now it's at its lowest point since at least 2009.
Searching for answers, education officials crossed the state last year and heard that easy access to jobs, coupled with student debt worries, made college less attractive.
"This generation is different," said Jamia Stokes, a senior director at SCORE, an education nonprofit. "They're more pragmatic about the way they work, about the way they spend their time and their money."
Most states are still collecting data on recent college rates, but early figures are troubling.
In Arkansas, the number of new high school graduates going to college fell from 49% to 42% during the pandemic. Kentucky slid by a similar amount, to 54%. The latest data in Indiana showed a 12-point drop from 2015 to 2020, leading the higher education chief to warn the "future of our state is at risk."
Even more alarming are the figures for Black, Hispanic and low-income students, who saw the largest slides in many states. In Tennessee's class of 2021, just 35% of Hispanic graduates and 44% of Black graduates enrolled in college, compared with 58% of their white peers.
There's some hope the worst has passed. The number of freshmen enrolling at U.S. colleges increased slightly from 2021 to 2022. But that figure, along with total college enrollment, remains far below pre-pandemic levels.
If there's a bright spot, experts say, it's that more young people are pursuing education programs other than a four-year degree. Some states are seeing growing demand for apprenticeships in the trades, which usually provide certificates and other credentials.
After a dip in 2020, the number of new apprentices in the U.S. has rebounded to near pre-pandemic levels, according to the Department of Labor.
Before the pandemic, Boone Williams was the type of student colleges compete for. He took advanced classes and got A's. He grew up around agriculture and thought about going to college for animal science.
But when his school outside Nashville sent students home his junior year, he tuned out. Instead of logging on for virtual classes, he worked at local farms, breaking horses or helping with cattle.
"I stopped applying myself once COVID came around," the 20-year-old said. "I was focusing on making money rather than going to school."
When a family friend told him about union apprenticeships, he jumped at the chance to get paid for hands-on work while mastering a craft.
Today he works for a plumbing company and takes night classes at a Nashville union.
The pay is modest, Williams said, but eventually he expects to earn far more than friends who took quick jobs after high school. He even thinks he's better off than some who went to college — he knows too many who dropped out or took on debt for degrees they never used.
"In the long run, I'm going to be way more set than any of them," he said.