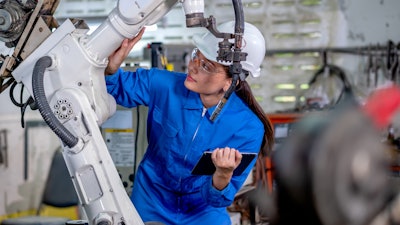 iStock
Despite skilled labor shortages across myriad industries, women's share of the ever-expanding construction workforce reached an all-time high of 14% in 2022, and the number of minority women apprentices has nearly doubled in recent years.
With opportunities for women to enter the trades being stronger than ever, family-owned workwear brand Carhartt is dedicating its Spring 2023 round of bi-annual "For the Love of Labor" grants to increase female representation in the skilled trades.
Through Feb. 17, eligible nonprofit organizations that help place women in skilled positions are encouraged to apply for the Spring 2023 grants as part of the brand's ongoing commitment to strengthening and diversifying America's workforce. Recipients will be announced in early March ahead of International Women's Day as part of Carhartt's larger celebration of women in the skilled trades.
Launched in August 2022, Carhartt's For the Love of Labor grant program is an initiative for the brand, created to support community-based nonprofit organizations nationwide to educate, train and place workers into meaningful skilled trade jobs.
The inaugural round of For the Love of Labor grants, totaling $175,000, were awarded to four deserving organizations in Carhartt's home state of Michigan, including Women Who Weld, Women in Skilled Trades, Emerging Industries Training Institute and Workforce Development Institute - Access for All.
"By working to bridge the opportunity gap between men and women in the trades, we're not only enriching our nation's talent pool to meet the rising demand for labor, but also delivering on Carhartt's longstanding mission is to protect and serve all hardworking people," said Todd Corley, senior vice president of inclusion, sustainability and community at Carhartt.
Eligible organizations must be a U.S.-based 501©3 designated organization in recognized apprenticeship industry that has established programs serving at least 100 individuals annually.