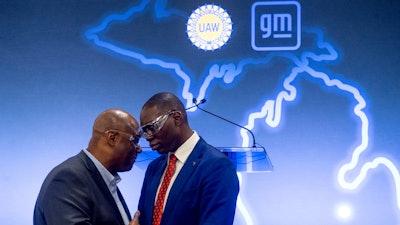 Jake May/The Flint Journal via AP
FLINT, Mich. (AP) — General Motors says it will spend more than $900 million to update four factories, with the bulk going to an engine plant in Flint, Michigan, to build the next-generation V8 for big pickup trucks and SUVs.
Factories in Rochester, New York; Defiance, Ohio; and Bay City, Michigan; also will see investments, some to make V8 engine components as well as parts for future electric vehicles, the company said Friday.
The investments won't create any new jobs, but they will preserve about 2,400 hourly and salaried positions positions at the four sites, the company said.
The investments "provide job security at these plants for years to come," Gerald Johnson, GM's manufacturing chief, said in a statement.
Much of the money, $579 million, will go to Flint Engine Operations for equipment to build the sixth-generation small-block V8 that will go into the next round of big pickup trucks and SUVs. The plant now employs about 700 people who also will keep making their current product, a diesel engine used in light trucks.
GM, like other automakers, is facing stricter government fuel economy standards and pollution limits starting in the 2024 model year. New vehicles sold in the U.S. will have to average at least 40 miles per gallon of gasoline in 2026, up from about 28 mpg, under new Biden administration rules that undo a rollback of standards enacted under former President Donald Trump.
That means the new V8 will have to get better mileage and pollute less than the current versions. Although GM wouldn't release details on the new engine, Johnson said during a news conference at the Flint plant that it would be more efficient than the current version.
GM has a goal of selling only electric passenger vehicles by 2035, but Johnson said that's a dozen years out, a period when many customers will still want gas engines.
"We know that has a horizon," he said. "Between here and there, there are a lot of internal combustion customers that we don't want to lose," he said.
In addition to Flint, GM's engine components plant in Bay City, Michigan, will get $216 million to build camshafts and connecting rods, and to machine engine blocks and heads for the new V8 being built in Flint. The plant now employs about 425.
The Defiance, Ohio, foundry will get $55 million to build a variety of block castings for the new V8. Included is $8 million for castings to support future electric vehicles, the company said. The plant has about 530 employees.
And GM's operations in Rochester, New York, will get $68 million, with $56 million to produce battery pack cooling lines for electric vehicles. The rest will go for tools to make intake manifolds and fuel injection rails for the new V8. About 745 people work at the Rochester facility, GM said.
GM's plant in Tonawanda, New York, now builds the fifth-generation small-block V8s for big pickup trucks and SUVs, and Johnson said that will continue until the end of the decade. "It is a great organization, a great work force for us," he said Friday. "Tonawanda will be fine running the current Gen 5 well into the future," he said.