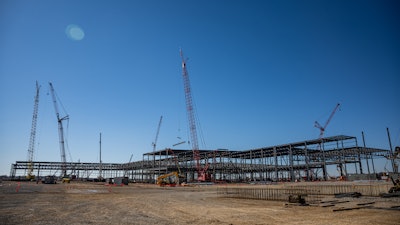 Ford
Ford and SK On have broken ground at BlueOval SK Battery Park, where their joint venture – BlueOval SK – has invested $5.8 billion to produce advanced batteries for future Ford and Lincoln electric vehicles, slated to start production in 2025, creating 5,000 new jobs in Kentucky.
Construction is on schedule at the two massive battery manufacturing facilities capable of collectively producing more than 80 gigawatt hours annually.
Significant construction progress at BlueOval SK Battery Park brings Ford closer to its target of producing an annual run rate of 2 million electric vehicles globally by the end of 2026.
BlueOval SK Battery Park will train 5,000 new workers at the new Elizabethtown Community and Technical College (ECTC) BlueOval SK Training Center, located on the 1,500-acre BlueOval SK Battery Park site.
The ECTC BlueOval SK Training Center is the only co-branded learning facility within the Kentucky Community College System and represents a $25 million investment by the Commonwealth of Kentucky.
The curriculum within the 42,000 square-foot training facility will support battery knowledge, roles and skills. BlueOval SK will train employees in SK On's proprietary technical, quality and manufacturing processes in the ECTC BlueOval SK Training Center's virtual reality labs, industrial maintenance lab, work simulation lab and ergonomics techniques classrooms.
Progress has been made at the 2.3-square-mile battery manufacturing campus. To date, crews have:
Moved 4.3 million cubic yards of soil, enough to fill 200 American football stadiums
Laid 283,000 tons of stone, equivalent to the weight of nearly 1,350 locomotives
Poured 66,000 cubic yards of concrete – enough to fill 356 backyard swimming pools
Installed 3,300 tons of rebar ties to reinforce the concrete, equivalent to the weight of more than 470 elephants
Installed 1,300 deep foundations, equal to the height of nearly 60 Empire State Buildings stacked end to end
Erected 7,900 tons of structural steel, equivalent to the weight of nearly 400 fire trucks