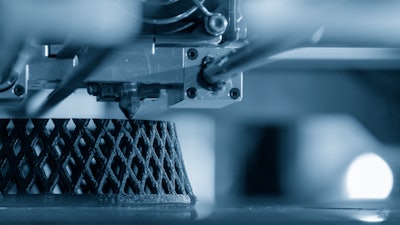 iStock
The Additive Manufacturing Gap
In the grand scale of human ingenuity, additive manufacturing (AM) is a relatively new manufacturing innovation. What originally started in the 1970s, with a patent for a device named the "Liquid Metal Recorder", has grown into one of the most widely used manufacturing methods, commonly called 3D printing. While predominately used to rapidly prototype and iterate custom parts, 3D printing has an incredible array of applications. It can produce parts for nearly anything, from a hobbyist's personal project to SLA resin Somos PerFORM printed parts designed to endure plasma bombardment from space thrusters.
A significant number of innovations have come to 3D printing technology since its inception. Layer by layer, these innovations have improved 3D printers and multiplied options resulting in major classes being formed. Most of them fall into 1 of 2 categories: personal desktop 3D printers or production-level 3D printers. Each has its own advantages and disadvantages. Desktop 3D printers are pretty affordable, relatively easy to set up, and can produce complex custom parts quickly. Unfortunately, their small build size can limit their ability to make many functional end-use parts. They are typically not quick enough or robust enough to be a viable solution for most engineers going through the product development process. Meanwhile, production-level 3D printers are able to produce a variety of complex parts at rapid rates. Unfortunately, these machines are often large, very costly, and extremely hard for a novice to set up. This dichotomy has resulted in what we refer to as the Additive Manufacturing Gap — a desire for high-level performance in the size and price range of a desktop 3D printer.
One long-standing Xometry customer is working to bridge the gap between these two categories of printers.
"Nexa3D started in 2016 with a small group of people and a creative and innovative idea to solve a real problem: 'how can we achieve the printing speed, scale, and throughput that is necessary to make additive manufacturing not just a viable technology, but a truly valuable technology for the industry?' Nexa3D has grown into a passionate group of people who are dedicated to providing that polymer 3D printing solution that is helping eliminate supply chain complexities in the industry, reduce lead times, cut tooling costs, and allow our customers to quickly and easily access solutions that weren't previously possible." - Kenyon Whetsel,Mechanical Engineering Director at Nexa3D
Nexa3D has already had success in the 3D printing space with their NXE 400 photopolymer 3D printer, an impressive machine with a 16L build volume, incredible speed, throughput, accuracy, and repeatability. Its patented Lubricant Sublayer Photo-curing (LSPc) technology enables production speeds that are up to 6.5x faster than other 3D printers from the same class and has 2.5x greater build volume (16L) when compared to SLA- and DLP-based technologies. The NXE 400 industrial photopolymer printer, along with other Nexa3D printers, features patented Lubricant Sublayer Photo-curing (LSPc) technology, delivering accurate parts with high tolerances with a superior surface finish. After successfully breaking into the industry, the team at Nexa3D wanted to find a way to bridge the gap between the two traditional classes of 3D printers.
The Nexa3D XiP desktop 3D printer is the perfect bridge between the convenience and price point of a desktop printer, combined with the efficiency of larger 3D printers. By utilizing a more scaled-down version of their LSPc technology, the XiP is the perfect solution for professional users caught in the Additive Manufacturing Gap. The XiP, which is now shipping, is well suited to rapidly fabricate prototypes and other production-grade components for applications in the engineering, dental, medical, and education sectors.
This is an excerpt from "Xometry, a 'Supply Chain Powerhouse,' Sources Critical Components for Nexa3D's Ultrafast XiP Desktop 3D Printer." Read the full article at https://www.xometry.com/resources/case-studies/nexa3d/.
Want to learn more about ultrafast resin 3D printing for your Desktop?
Download the Definitive Guide to Ultrafast 3D Printing and learn about how LSPc technology scales for studio and manufacturing environments to help you produce high quality parts at unbelievable speed.