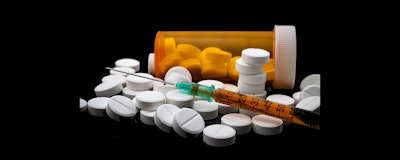 HOUSTON – Today the National Safety Council made Houston the sixth stop on a nationwide tour of its exhibit, Prescribed to Death: A Memorial to the Victims of the Opioid Crisis, by unveiling the display inside the George R. Brown Convention Center in downtown Houston in conjunction with the NSC Congress & Expo – the world's largest annual safety conference. The Memorial's arrival comes in the midst of an opioid crisis that continues to worsen, not only among the general public but also in the workplace. NSC analysis indicates 1,375 Texans fatally overdosed on opioids in 2016, and an NSC survey of employers nationwide shows seven in 10 have been directly impacted by employee prescription drug misuse.
The memorial exhibit is free and open to the public from 11 a.m. to 5 p.m. today and from 10 a.m. to 5 p.m. Tuesday, Oct. 23, and Wednesday, Oct. 24, on the third floor of the convention center just outside the Grand Ballroom. Prescribed to Death is one of several components of the Council's Stop Everyday Killers campaign – a national effort to help educate Americans about the risks of taking opioids and put a face on the thousands killed from preventable overdoses. The memorial launched last year in Chicago and has since visited Pittsburgh, Atlanta, Washington, D.C., Buffalo, N.Y., and Fayetteville, Ark.
"The most fatally abused drug today may be sitting in medicine cabinets across Texas," said Deborah A.P. Hersman, president and CEO of the National Safety Council. "Education plays a critical role in eliminating these preventable deaths. We hope the Stop Everyday Killers campaign helps personalize this tragedy. By bringing the memorial to our annual Congress & Expo, we also hope employers learn how to protect employees from the worst drug crisis in recorded U.S. history."
The Prescribed to Death exhibit includes a memorial wall made of thousands of small white pills – each carved with a human face to represent those lost to prescription opioid overdose in 2015. Visitors will receive first-of-their-kind "Opioids: Warn Me" labels for insurance and pharmacy cards in an effort to prompt a critical conversation between patients and prescribers about risks and possible alternatives. NSC partnered with Stericycle, a Chicago-based waste disposal company, to provide pre-paid Seal&Send envelopes to memorial visitors so they can easily and anonymously mail back old or unused prescriptions safely.
Individuals who have lost loved ones to opioid overdose will have the opportunity to honor them by adding their loved one's name to a digital memorial provided by the National Safety Council, or by sharing photos, flowers or personal effects on site. Please note, items left at the memorial will not be returned.
The Houston stop of the exhibit is underwritten by contributions from Stericycle, Nationwide Insurance, Accenture and Schneider. Visit stopeverydaykillers.org for more information.