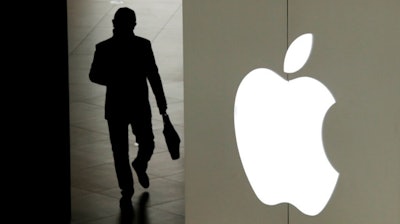 AP file
Apple has sourced more than 20 million face masks through its supply chain, CEO Tim Cook said in a video posted on Twitter.
Apple hopes to quickly expand distribution beyond the U.S. It plans to ship over a million face shields to healthcare workers by the end of the week, and continue to send that many every week going forward, Cook said.
Ford Motor Co. has manufactured and shipped over 1 million clear plastic face shields to hospitals and first responders all over the U.S. The company sent its millionth protective shield to New York City as part of a shipment of more than 30,000 spokeswoman Elizabeth Kraft said.
Hilton and American Express are donating a million U.S. hotel rooms to medical workers who need to sleep or isolate from their families. American Express and Hilton are paying for the rooms, which are being provided at or below cost by Hilton franchisees.