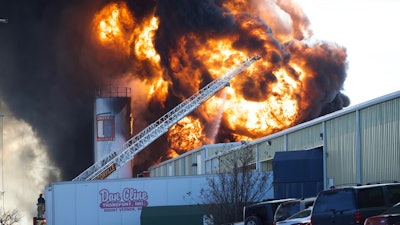 NWA Democrat-Gazette, via Twitter
A massive fire sent thick, black smoke into the skies above Bentonville, AR for several hours Wednesday, but resulted in no injuries.
According to city officials, a fire broke out at approximately 11:30 a.m. in a storage area just outside United Industries' UltraBoard manufacturing facility near downtown. Firefighters were able to contain the fire after approximately 90 minutes, although heavy smoke and flames continued for the next hour.
Bentonville's deputy fire chief Kevin Boydston told local media that firefighters' main concern upon arrival was highly flammable vertical tanks of polystyrene used in United Industries' foam products production, along with a 35,000-gallon tank of difluoroethane that had the potential to set off a large explosion.
"It could have been a lot worse had the crews not been able to protect those highly flammable tanks and barrels and keep it out of the building," Boydston said, adding that the building's interior suffered some damage but otherwise remained intact.
The cause of the fire is under investigation, while pallet stacks and polystyrene pellets comprised most of what burned.
KNWA news reports one woman was treated at a hospital for fire-related injuries and was released later Wednesday.
United Industries CEO Mark Ferm told CBS5 News credited the plant's emergency drills for enabling the company's 80-90 employees who were in the building to make a safe and timely evacuation.
"We do regular drills on fire, multiple times a year," Ferm said. "And our employees did exactly what they were trained to do. And for that reason, fortunately, no one was hurt."
Ferm said that while those employees may be not be able to return to work until an investigation is complete and the plant is running again, they will be compensated for their lost time.
According to the company's social media, United Industries' UltraBoard is a line of foam core board products used by digital imaging, photographic and graphic arts industries.