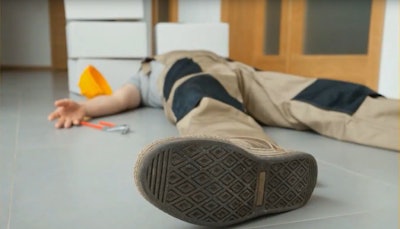 WASHINGTON, DC – The U.S. Department of Labor's Occupational Safety and Health Administration (OSHA) has developed a collection of compliance assistance resources to address falls in the workplace, the leading cause of worker fatality in the construction industry. OSHA's goal is to promote awareness about common fall hazards in construction, educate job creators and workers on fall prevention, and reduce the number of fall-related injuries and fatalities. These resources, which continue the goals of the Department's Office of Compliance Initiatives (OCI), encourage and facilitate compliance evaluations.
Falls can be prevented if employers plan ahead to ensure the job is done safely; provide the right equipment; and train workers to use the equipment safely. OSHA is working with industry stakeholders to provide informative compliance assistance resources.
The sixth annual National Safety Stand-Down to Prevent Falls in Construction will be held May 6-10, 2019. The weeklong outreach event encourages employers and workers to pause during the workday to discuss fall hazards and how to prevent them.
A series of fall safety videos show how to prevent construction-related fall hazards from floor openings, skylights, fixed scaffolds, bridge decking, reroofing, and leading edge work.
OSHA's Fall Prevention Training Guide provides a lesson plan for employers including several Toolbox Talks.
Fact sheets on ladders and scaffolding provide guidance on the safe use of these types of equipment while performing construction activities.
A brief video, 5 Ways to Prevent Workplace Falls, encourages employers to develop a fall prevention plan, and to provide workers with fall protection and training.
OSHA's On-Site Consultation Program provides valuable services for job creators that are separate from enforcement. OSHA recently published an analysis demonstrating how the agency's On-Site Consultation Program contributes $1.3 billion to the national economy each year. Job creators who implement workplace improvements can reduce lost time due to injuries and illnesses, improve employee morale, increase productivity, and lower workers' compensation insurance premiums.
Under the Occupational Safety and Health Act of 1970, employers are responsible for providing safe and healthful workplaces for their employees. OSHA's role is to help ensure these conditions for America's working men and women by setting and enforcing standards, and providing training, education and assistance.
OCI – housed within the Department of Labor's Office of the Assistant Secretary for Policy – fosters a compliance assistance culture within the Department designed to complement its ongoing enforcement efforts. This Office focuses on helping enforcement agencies more effectively use online resources to deliver information and compliance assistance to help the American people. In August 2018, OCI launched Worker.gov and Employer.gov to provide information about workers' rights and the responsibilities of job creators toward their workers.