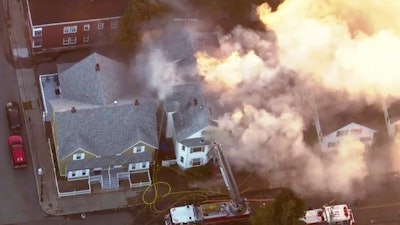 LAWRENCE, MA — The Latest on gas explosions in Massachusetts (all times local):
8:30 a.m.
The National Transportation Safety Board is sending a team to Massachusetts to investigate a series of gas explosions blamed for one death and dozens of fires.
An agency spokesman said during a news conference in Washington on Friday that pipelines are within the agency's jurisdiction.
The spokesman says among other things, the agency will look at the design of the pipeline system, maintenance and upgrades that have been done, and the safety record of the pipeline operator.
The agency's job is not to lay blame, but to determine what happened so it can be prevented from happening again.
The explosions were reported in the communities of Lawrence, Andover and North Andover north of Boston on Thursday afternoon.
___
6:43 a.m.
The company that provides natural gas service to the Massachusetts communities affected by a series of gas explosions and fires says it expects "an extended restoration effort."
Columbia Gas in statement Friday morning said it is "working with the appropriate authorities to investigate this incident in order to understand its cause."
The series of explosions and fires in Lawrence, Andover and North Andover killed a teenager, injured at least 10 other people and ignited fires in at least 39 homes.
The company says it needs to visit each of the 8,600 affected customers to shut off each gas meter and conduct a safety inspection.
About 18,000 customers in the region also had their electricity shut off in response to the explosions and many residents spent the night at shelters in area schools.
__
10:55 p.m.
Authorities say an 18-year-old man has died after a house exploded amid gas explosions north of Boston, sending a chimney crashing into his car.
Officials have identified the victim as Leonel Rondon, of Lawrence. They say he was rushed to Massachusetts General Hospital in Boston, where he died around 8:30 p.m. EDT of his injuries.
Gov. Charlie Baker says 10 other people were injured Thursday in a series of fires and explosions that authorities blame on over-pressurized natural gas lines.