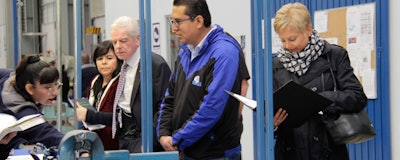 Canton, MI — Schuler has developed solutions for the digitization and networking of forming technology with the new servo press MSP 400 or the process monitoring system for hot stamping systems. They are part of the "Smart Press Shop," Schuler's answer to Industry 4.0 ("Industrial Internet of Things", IIoT). The main benefits for press operators have now been experienced by the visitors at Schuler's Tech Day at the end of November in Puebla.
"The digital transformation of the press shop is already well underway," says Carlos Valdés, CEO of Schuler in Mexico: "Not only the major car manufacturers, but also medium-sized suppliers can use the Smart Press Shop for more efficient production and fewer rejected parts. Thus, Schuler is putting forming technology on the fast track to the digital future."
In the morning, Schuler celebrated their fourth group of apprentices completing their vocational training at the Cedual Training Center. The 16 industrial engineers and toolmakers prepared themselves for their job with theoretical and practical phases based on the German model. The training center, which Schuler founded in 2012, is equipped with a teaching workshop as well as an audiovisual lecture theater and three classrooms.