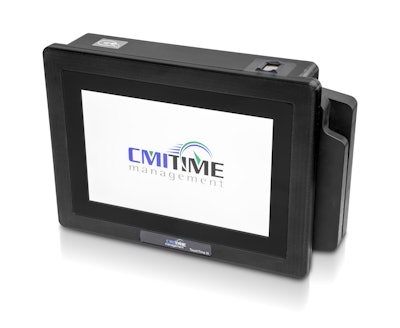 Enfield, CT - CMI Time Management, a global provider of innovative workforce and resource management products for companies in a variety of major industries, announced the release of the latest entry in its proprietary TouchTime line of data collection terminals. Powered by an updated Windows operating system, the TouchTime III time clock and workforce management solution delivers sophisticated employee self-service capabilities designed to minimize time-consuming manual data entry for human resource and operations departments.
"Because of the nature of their work, many companies do not provide every employee with a personal computer," said James Bianco, Vice President of marketing for CMI Time Management. "This touch-screen tablet allows all employees to access an array of data including work schedules, salary accruals, FMLA leave status, vacation updates and more. They can also use the tablet to submit information such as the results of their shifts, vacation requests, leave requests and benefits modifications."
Enclosed in a rugged, self-service kiosk, the TouchTime III is easy to install and offers the latest advancements in workforce data collection, including:
A Windows 10 operating system with a familiar user interface that runs Java, .Net, and browser-based applications.
Simple application development and deployment with CMI's loading and monitoring system, which facilitates installation and updates of Java-based applications.
Easy network connectivity via WiFi, Bluetooth, or Power Over Ethernet.
Multiple modular employee auto-identification peripheral options (RFID proximity card reader, fingerprint scanner, facial capture).