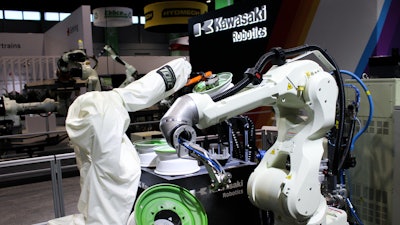 Kawasaki Robotics
In an effort to address labor shortages, Kawasaki Robotics is introducing several automation, robotic welding and finishing solutions during Fabtech.
Bin picking processes are known to be laborious, tiring, and even dangerous in some situations. These tasks are suited for automation in nature but can be challenging to automate due to factors such as shifting part locations and complex path calculations. Kawasaki has developed a bin picking solution that can save users both time and money. This solution will be featured at FABTECH, using Canon's optical processing technology and Kawasaki's NEW RS013N robot for picking and sorting random parts from a bin to a conveyor.
Kawasaki partner Melton Machine & Control Company is launching their new RapidFlex machine tending cell to help end-users increase process uptime and quality, reduce operation cost and maximize throughput. Kawasaki Robotics and Dürr Systems are teaming up to bring automated paint solutions to the non-automotive general industries (GI) market. Kawasaki's KJ155 explosion-proof paint robot, equipped with a Dürr applicator, will be offering a live paint simulation.
The company said pre-engineered cells lower the barrier to entry for automation, making it more accessible for those less familiar with automation or robotic welding, or those simply looking for a plug-and-play solution they can get up and running quickly. Kawasaki's welding partner, SUMIG designed an arc welding cell for small to medium workpieces.
Along with that, Kawasaki and Real Time Robotics (RTR) have partnered to display an interactive spot-welding application using two Kawasaki BX100N robots, ARO 3G spot welding guns, and RTR's RapidPlan software. The spot-welding demo displays Kawasaki robots' through-arm design, open programming platform, and KRNX API plugin combined with Realtime Robotics' motion planning and collision avoidance software.
Attendees can interact with the cell by altering the robots motion path in real time – all without any reprogramming or manual verification of motion planning. Users are able to start, stop or reset all or any individual robots: modify target allocation; change target order; and add or remove existing targets to the robot sequence. Thanks to Kawasaki's hardware and RTR's software, programming requirements can be shortened by weeks and manufacturing floorspace optimized.