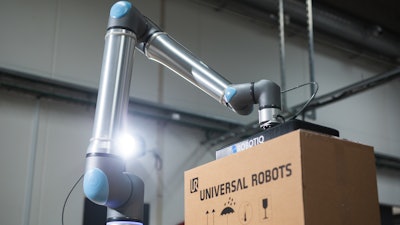 Universal Robots
Universal Robots (Odense, Denmark) debuted the new UR20 cobot in Robotiq's Palletizing Solution at PACK EXPO 2022.
Improvements in UR cobot performance include overall motion control capabilities and more than 30% increase in speed and torque.
The new extended reach is demonstrated by:
Stacking to the height of 1800mm

Covering two standard U.S. pallets

UR20's kinematics covering both the pallets and an infeed at the same time

Unique control algorithms for a smooth trajectory between setpoints and stable pick up of the individual boxes

The complete setup running via a standard single-phase power outlet (110-220 VAC)
UR20 features include:
New joint design that increases all joint torques approximately 25% and joint speeds by as much as 65% with an increase in TCP speed of 100% (2 m/s vs. 1 m/s).

Ability to handle heavier loads, up to 20 kg with a greater reach of (1750 mm)
Weight of 64 kg and a small footprint (Ø 245 mm)
Updated software brings motion control capabilities with smoother motion and less wear on the joints for increased uptime and decreases maintenance
1750 mm of reach
Palletizing -

reach for standard EURO pallets and stacking of up to 2m in height

Part handling -

heavier workpiece handling and ability to configure two or more end effectors
Patents have been filed for a more compact efficient and robust strain wave gear design with integrated output flange and output encoder.