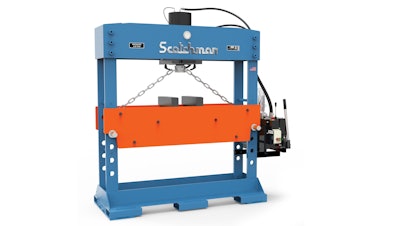 Scotchman Industries
Scotchman Industries (Philip, SD) introduced the PressPro 110W, the first in a line-up of U.S.-manufactured presses for industrial-grade fabrication, bending, forming, straightening, assembly, maintenance operations, testing and quality control.
This press has an extra wide working width, and its open frame design allows for material to pass through and provides flexibility to work on the longest work pieces.
The 110W PressPro model was redesigned by Scotchman Industries with a heavier-duty base and forklift accommodations to assist with installation or repositioning of the machine.
Scotchman's 110W model H-Frame PressPro combines a heavy-duty, quality welded, all-steel frame with an industrial grade hydraulic system to provide maximum strength, durability and a long life.
Equipped with:
Movable ram cylinder
Pressure regulator
3 ram speeds with ram cylinder that moves from side to side
Easy-to-use joystick operation
Set of standard V-blocks
The adjustable H-frame bed height and extra wide working width offers increased versatility with its ability to raise and lower the table for the best working distance possible.
The PressPro 110W model has 110-tons of force and an extra-wide frame.