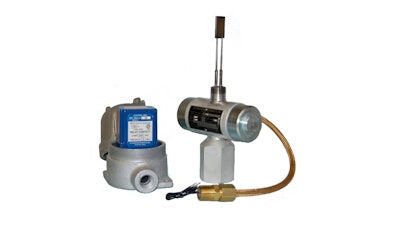 Dynatrol
Dynatrol (Houston, TX) introduced the Liquid Level Switch, CL‐10GH, the latest addition to the line of high, intermediate and low point level detectors for liquids or slurries.
Applications may include epoxy resins, glues, latex, nitrite latex, urethane resins, varnishes and wood furniture finishes. The detector provides rugged construction with a sensitive transmission of vibration energy.
Pairing the new level switch with the Dynatrol EC-501A(G) Control Unit increases stability by eliminating the variances of direct input power.    
The CL-10GH Liquid Level Switch has no moving parts, floats, diaphragms or packing glands to deteriorate. It requires no field adjustments and is easily installed in almost any position of a vessel or pipe.
Specifications for CL-10GH Liquid Level Switch:
Explosion Proof: CSA NRTL/C approved for Class 1, Group D, Division 1 Class 2, Groups E, F and G
Pressure Rating: 3000 PSIG @ 100°F
Temperature Rating: 300°F (High Temperature Construction Available)
Pressure Connection: ¾" NPT
Conduit Connection: ½" NPT
Contacts: SPDT 2A @ 120 VAC (Non-Inductive)