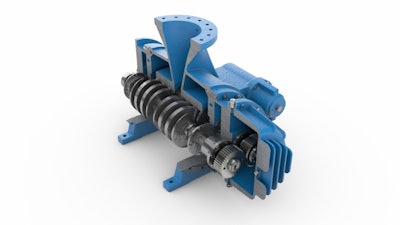 Circor
CIRCOR International, Inc. (Burlington, MA) announced a new member of the Houttuin 200 series, the 249.TT. This twin-screw pump is compliant with API 676, is designed to accommodate today's shaft-sealing solutions and is optimized for modern production technologies.
In combination with the best cost design, it is ideal for applications, process and transport duties in:
Oil and gas
Chemical
Non-hygienic food and beverage
Marine
The Houttuin 249.TT is a non-contacting screw pump, able to pump fluids and fluid mixtures from light condensate over water to highly viscous chemicals or emulsions.
The pump features and capabilities include:
Self-priming
Dry run capable
Resting
Wide capacity
Wide pressure and viscosity range
Low NPSH requirements
CIRCOR cavitation detection solution
The new 249.TT series offers higher flow capability and low net positive suction head (NPSH).
The NPSH optimized integral liner reduces hydraulic inflow losses, allows for a more compact pump and improves the overall pump efficiency.
The pump can operate close to the NPSHa limits, unloading tanks faster, independent of the properties of the actual fluid being pumped. The wider speed range allows the use of a smaller pump, saving cost, footprint and energy.